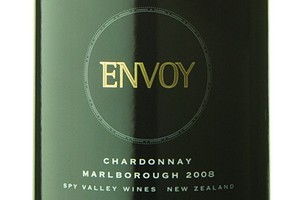 Over the past decade, chardonnay has been as popular as a fart in a lift. We couldn't get enough of the stuff in the 1990s, but our palates soon grew tired of the rich, heavily oaked style, giving rise to the Anything But Chardonnay (ABC) drinker.
Thankfully, opulent chardonnays are becoming a thing of the past. The words restraint, elegance and freshness are now better descriptors for New World chardonnays and those ABC drinkers are starting to wonder whether it's time to switch to the BBC (Bring Back Chardonnay movement).
Jim White, vineyard manager at Cloudy Bay, says: "The style has changed over the last decade. I used to see my chardonnay grapes disappear into the winery and it used to come back looking nothing like the fruit I sent."
Winemakers can put their stamp on chardonnay as it's a fairly blank canvas when it's picked. There are several decisions that have a large impact on style. Should they allow the malolactic fermentation, which converts apple-like malic acid to a milky, soft lactic acid? Should they stir the dead yeast cells after fermentation to create a creamy mouthfeel? Should they oak it to give aromas of vanilla and toasted nuts?
In the 1990s, winemakers were fans of malolactic fermentation, stirring the yeast cells and using lashings of new oak, creating turbo-charged chardonnays. Today, less is more. Winemakers in New Zealand and Australia are more hands off, allowing the grapes, rather than their own egos, to shine.
This new generation of chardonnays has taken a step out of the elevator and provided a much-needed breath of fresh air.
2008 Astrolabe Voyage Chardonnay, Marlborough ($23.99: Caro's, Hamilton Wines)
Lean and clean chardonnay offering lots of citrus and white peach aromas, with vanilla on the finish.
2008 Spy Valley Envoy Chardonnay, Marlborough ($35-40, spyvalleywines.co.nz)
A mellifluous chardonnay with white stonefruit and grilled nuts on the nose, creamy and round in the mouth with a zesty grapefruit finish.
2008 Kumeu River, Mate's Vineyard Chardonnay ($55: Wine Circle, Caro's, Glengarry)
The best chardonnay in the country. Deliciously complex with notes of hazelnut, citrus, butter and oatmeal.
It is beautifully silky, caresses your palate and goes on for a long time.