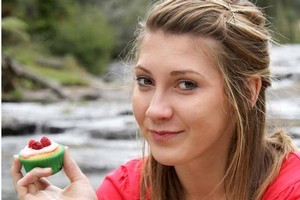 Claire Gourley is a rapidly rising star on the New Zealand food scene. The 17-year-old's first cookbook, Who's Cooking Tonight? is shortlisted for the New Zealand Post Children's Book Awards - making her one of the youngest finalists ever. Claire is also host of TV2's Small Blacks (Sundays, 7.30am).
Who's Cooking Tonight? offers quick, tasty and healthy dishes with step-by-step instructions for young beginner cooks.
The New Zealand Post Children's Book Awards will be announced on May 18.
The one ingredient I can't live without is ... Real vanilla. I love the amazing Heilala vanilla syrup.
I have $20 and four people to feed, I'm making ... scrummy baked potatoes topped with stir-fried mushrooms and slithers of beef mixed in a creamy sauce. Salad too.
I'm tired and hungry so I am ordering takeaways from ... Yoku Sushi on Devonport Rd, Tauranga - my favourite is anything with salmon in it .
The person I'd most like to cook for is ... John Key.
The best meal I have ever eaten was ... in a little restaurant at Hoi On in Vietnam. It was a prawn and vegetable stir-fry. I love Vietnamese food.
Oh dear, it's my last meal, I'm eating ... a huge serving of chocolate cake drizzled in caramel with heaps and heaps of fresh raspberries.