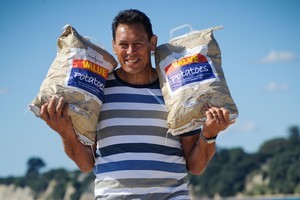 He's brought back Buck - as we used to know him.
All Black legend Buck Shelford has reached his goal of shedding 20kg from his once 130kg frame.
"The achievement is fantastic," he said. "I can do my shoelaces up now."
Shelford, who lost 12cm from his waist, will parade his slimmed-down look in a TV ad campaign for Jenny Craig starting tonight.
But the past year has been about transforming his mind, as well as his body.
The former No8, who scored 22 tries in 48 All Black matches, has been studying te reo Maori at Auckland's Awataha Marae. He says it is a revelation to "finally know what's going on" when he stands at the back of a marae.
Shelford decided to learn the language after fighting off cancer in 2007.
The illness was partly to blame for him packing on the pounds. Other reasons were a lack of exercise and his love of meat pies and butter on toast.
After signing up as a Jenny Craig ambassador in September, Shelford worked to return to the size he was at his All Black peak.
He lost 21kg by running or cycling for two or three hours a day, cutting down meal sizes and eating healthy food.
Weight-loss coach Natalie Russell was excited to see his success. "He checked twice on the scales to make sure that he had done it," she said.
Shelford said he followed the programme closely but found it hard to show restraint with food and alcohol at Christmas and while on holiday.
He said he felt better, could run faster and his wife thought he looked good. But the mission was mostly about being healthy.
He says he's stoked to have inspired about 1000 Kiwi blokes to join the weight-loss programme.