Throw out the trackpants and try some new workout gear to really get you moving, writes Diana Clement.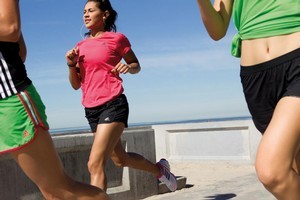 Clothing is clothing, right? Not so when it comes to exercise clothing. The magic wand of technological advance has revolutionised the clothes we wear when working out.
Good high-tech clothing can make the difference between an enjoyable exercise session and a nightmarish one on a cold winter day or a humid summer one, says Deb Hurdle, general manager of participation at Sparc (Sport & Recreation New Zealand).
Cold, wet and sweat are the three biggest problems faced by sports people, ranging from dog-walkers to Olympic athletes.
In warm weather, moisture-wicking technical fabrics such as Coolmax are much better than cotton. That's because these fabrics wick away sweat from the body, spreading it out across the fabric, which helps it to evaporate more quickly. This fabric is used widely by sportswear manufacturers.
Branded exercise clothing isn't all about sleek looks and multi-national profits - although the latest gear does tend to look good. There is science behind the designs as well, says adidas NZ's Rewi Manahi. His company, like others, does research into athletes' heat zones, which are different for men and women and may differ from sport to sport. The design then ensures breathable ventilation in those critical heat zones, he says.
Modern sportswear also has pockets in the right places for things like GPS devices, keys, and mobile phones as well as built in reflective panels. Good designs can help avoid chafing, Manahi says.
Cool weather creates another challenge says Hurdle, and fabrics have been designed to keep muscles warm, block cold wind, and let sweat escape. Fabrics such as Mizuno's Breath Thermo, which is designed to trap heat, have been developed to meet such needs.
Technical sports jacket are often designed to be windproof or waterproof at the front, but have good ventilation at the rear or under the arms to release the sweat that is being wicked away from the body.
Layering up in cooler weather is really important, Hurdle says. Several thin layers of good technical fabric are better than one thick layer.
Keeping dry is essential for many sports - especially tramping, climbing and mountaineering. Gore-Tex has been around since 1969 but is still the leader in providing a balance of rain protection and breathability. Even so, Gore-Tex's use as a high-tech fabric is compromised if you're wearing cotton T-shirts underneath, which can trap moisture and leave you wet and cold from the inside.
If you can't afford the price tags to go with the flash new fabrics then it's not the end of the world, says Hurdle. You can still make conscious choices that help your exercise, such as layering in winter, and wearing cheap lightweight T-shirts in summer rather than heavy cotton ones which absorb sweat. Or, says Hurdle, if you're going out in winter and can't afford merino wool or other expensive garments, buy polypropylene, which is cheap, lightweight and warm.
Clothing tips
* Feeling comfortable is conducive to exercising more
* Don't mix heavy cotton with high-tech fabrics
* Buy last season's lines at Dress Smart or other outlet malls
* Polypropylene is warm and cheap