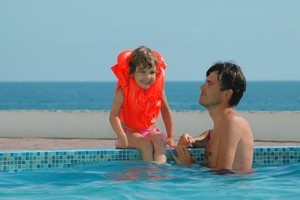 I thought we were over the bad old days where the thought of any men near children, no matter how public or how scrutinised, was cause for mass parental hysteria.
I thought we were now trying to cajole men into early childhood care and primary teaching, and acknowledging that little kids getting to know members of the male gender wasn't actually the worst thing that could ever happen.
Apparently not, if the experience of my husband recently is anything to go by.
We live reasonably close to a fantastic wave pool in Mt Albert and are frequent visitors. Often, Ali will take both kids by himself. Like normal kids, they wander in and out of the various pools, meaning he's generally got to have eyes in the back of his head and eight arms to keep them within reach. It's no easy task.
One of the pools at this centre is a so-called "family" pool. A large sign says single people (I'm sure it's aimed at men primarily) are not allowed to sit in the pool by themselves - it's supposed to be for parents and children.
From the outset this sign has exasperated me, because it seems to me a futile bid to stop people looking at, or being near, children. I am sure there are people with paedophilic tendencies that visit this pool complex, just as there are people with paedophilic tendencies that visit all sorts of places where children hang about. You will never stop the eyeballs of paedophiles connecting with the reality of children, no matter how hard you try.
Young children will not be in this pool by themselves, because it is too deep for them, meaning a parent will always have to be nearby in any case. To my mind, having an attentive parent right beside you is enough - it is that parent's job to ensure a child and a paedophile do not meet in any meaningful way at a public swimming pool where you are supposedly meant to be within arm's reach of your young child at all times.
Anyhoo, Ali was sitting there in a brief moment while one child got out of said pool, and one child was walking over to get in.
Suddenly, a woman loudly inquired of a nearby lifeguard whether there was a 'time limit' on parents staying in the pool after one of their children had got out.
"No," replied the lifeguard.
The woman, clearly brassed off about this laxity, then proceeded to tell her child very loudly that she felt "uncomfortable" about being in the pool at that moment, and other loud complaints of that nature.
The grandstanding was only interrupted by the arrival of my two-year-old daughter at the pool - which is only metres from the main pool - and Ali resuming his role as active 'parent' again.
Telling me this story later, my husband was clearly annoyed - and hurt - by the woman's inference.
In his lighter moments he chalked it up to his new moustache, which has caused him to be called all manner of things including a Mexican, a taxi-driver, and a French porn star. But I'm sure even without the crumb catcher, this woman would have been similarly hysterical.
The upshot is that there seems still an unsettling reality about the way men by themselves are automatically assumed to be sexual perverts.
Not only that, but a continued inability of parents to trust their own vigilance with regards to their own child - an expectation that rules and regulations on their own will keep everyone safe; as if a mere sign outside a pool is enough to spirit something potentially evil far, far away.