Different kinds of royalty will soon be walking up the aisle. But whose big day will be bigger?
THE COUPLES
Middleton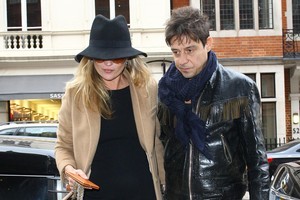 On April 29, this balding guy called William is getting hitched to a girl named Kate. And Brits all get a free holiday out of it. After meeting at university in 2001, they lived together in a student house before moving to London, where Middleton pretended to get a job and sat on her perfectly manicured hands until her Prince finally proposed.
Moss
The mum and member of fashion royalty is marrying her rock star boyfriend of three years, Jamie Hince. Actually, she's remarrying him, having already had a secret ceremony last October. But Moss's father confirmed they were planning to wed again and get the party started properly this time. The slated date is July 2 - so guests will have plenty of time to order their bespoke creations for what promises to be the most fashion-fabulous wedding on the planet.
THE IN-LAWS
Middleton
We know William's family like Kate's because they invited them to shoot at Balmoral; a traditional means of showing affection in patrician families.
Former air hostess Carole and air dispatcher Michael seem to get on with the Royals, although Leeds-born Michael will probably need to bring an interpreter and Carole will no doubt be chewing nicotine gum on the big day - as she did during William's passing out parade in 2006.
Moss
The confluence of genetics that led to Kate Moss's astonishing good looks comes from parents Linda and Peter, who divorced when their daughter was 13 years old, and whom Hince reportedly asked for permission before proposing to his intended. The guitarist comes from a modest background himself, having grown up in Woolton Hill, Berkshire, with parents William, Carole and elder sister Sarah.
THE VENUES
Middleton
The Disney castle was all booked up, so Kate Middleton has had to make do with Westminster Abbey, the ancient site of royal comings and goings since 1065 and backdrop to William's parents' marriage in 1981. The final resting place of Elizabeth I and Mary Queen of Scots, let's hope the choir are loud enough to muffle the sound of them turning in their graves. Henry VII's ambitious king-maker mother, Margaret Beaufort, is also buried there, so at least Carole Middleton will have someone to talk to.
Moss
Moss and Hince's official wedding (they tied the knot earlier at a small stone church in Sicily) will be a more modest affair. St John's Wood Church is one suitably grand and neoclassical venue close to Moss's home but the model may be interested in less holy surroundings. It seems likely she'll pick a luxury hotel, such as the Mandarin Oriental or Claridges, where David Walliams married model Lara Stone in a suite last year, and Moss held her notoriously rowdy 30th birthday celebrations in 2004.
THE DRESSES
Middleton
News just in: Kate Middleton has chosen to copy a dress from Channel 4 series My Big Fat Gypsy Wedding, a 6ft wide, 20-stone pink number illuminated by hundreds of robotic butterflies. Only kidding. Designers in the running to design the dress include cult Sloane label Issa and society couturier Bruce Oldfield. Snore. Fingers crossed for a train twice the length of Diana's that we can hitch a lift home on - there's a Tube strike that day, don't you know.
Moss
She is the face that launched a thousand looks, so whatever she wears will doubtless be copied the world over. It's likely that she'll pick something vintage and iconic - past successes include a sequinned gown worn by Britt Ekland and a floor-sweeping Dior number that, when she ripped it at a party, had to be nattily pinned out of the way by close pal John Galliano. Her knack for accessorising means she'll no doubt choose something subtle, to highlight the enormous diamond rock that Hince bought for her, on the advice of retail mogul Sir Philip Green.
THE GUESTS
Middleton
The Royal wedding guest list will no doubt read like a commemorative copy of Hello! with abstruse and distant royal relatives wheeled out from whatever tottering eastern European state they own. Perhaps Victoria, Crown Princess of Sweden, will be on hand to entertain the Middletons; she married her former personal trainer last year so knows how to talk to the steerage classes. There'll also be several hundreds of creamy-skinned flowergirls destined for the back pages of Country Life.
Moss
A veritable who's who of fashion, celebrity culture and the music industry, Moss's guestlist will be as closely policed as the Berlin Wall once was. Could ex-flames Daniel Craig and Johnny Depp turn up? The father of Moss's daughter, Jefferson Hack, will almost certainly attend, as will Moss's Primrose Hill friendship set, comprising Davinia Taylor, Sadie Frost and Pearl Lowe.
THE AFTER-PARTIES
Middleton
After the Abbey, guests could move on to Boujis, a buzzing South Ken nightspot where people with glossy hair stand and smoke outside until the small hours. There'll probably be a State Dinner too (work from the outside in, Carole and Michael!) with an ambient groove soundtrack supplied by artisto-club promoter Guy Pelly. A brief flurry of panic will ensue when Prince Harry goes missing, but passes when he is located facedown on the Mall. The reception will provide a big opportunity for Kate's sister Pippa to trump her sibling by scoping out an even more prestigious husband. Somebody warn Michelle Obama.
Moss
What do you buy the girl who has everything? Steer clear of fashion presents unless you're really convinced she'll like it, and don't bother with perfume either - Mossy has two brands of her own already. It's a tricky one, this, because Moss has been an independent woman since the age of 14. Better just play it safe and get her some Le Creuset.
- INDEPENDENT