Chocolate lovers will delight in this delicious recipe book from Green & Blacks, starting with these naughty wee pies.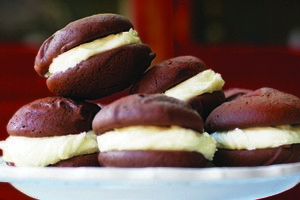 This time of year we are contantly being reminded that chocolate is good for you. Better still, when the world's favourite organic chocolate brand produces a cookbook full of chocolate delights, you can feel satisfied that the chocolate is good for the planet too. Author Micah Carr-Hill has the divine job title Head of Taste at Green & Black's, the world's first organic and fair trade chocolate.
In this book, his second, he has rounded up chefs, celebrities and brand fans to send in their favourite recipes.
Some take just minutes (a five-minute chocolate pot, for example), some are comforting (chocolate rice pudding) while others are for bakers who delight in the science of their constructions (food writer Simon Hopkinson's chocolate pithiviers - a delicate almond and puff pastry concoction).
Micah is generous with his tasting notes, but urges accuracy - baking is not like cooking. His main advice is to invest in a good quality oven thermometer and some decent scales: from such tools will excellence come.
For Valentine's day, there are a handy few pages of quick and stylish fondue recipes - essentially melt and dip - and mille feuilles or layered pots which are more about assembling ingredients stylishly.
His colleage Anita Kinniburgh's version of the traditional Amish Pensylvania whoopie pie - now set to be the new cupcake/macaron in parts of the trendy world - is less American hamburger-sized but smaller, more buttery/chocolatey, and sandwiched with a buttercream icing. Make and eat with love.
Anita's Wonderful Whoopie Pies
Makes about 10
For the pies
125g unsalted butter
150g dark (70 per cent cocoa solids) chocolate
225g sugar
3 large free-range eggs
1 tsp vanilla extract
250g plain flour
30g good-quality cocoa powder
1/2 tsp baking powder
For the filling
50g unsalted butter
30ml semi-skimmed milk
1/2 tsp vanilla extract
250g icing sugar
1 Preheat the oven to 180C gas mark 4 and line two baking trays with baking parchment.
2 Melt the butter and chocolate in a heatproof bowl over a pan of barely simmering water, making sure the bowl doesn't touch the water.
3 Remove from the heat and allow to cool slightly.
4 Whisk the sugar, eggs and vanilla in a separate bowl for about 3 minutes or until light, fluffy and pale in colour, then fold in the chocolate mixture.
5 Sift the flour, cocoa and baking powder together and fold into the mixture. Place tablespoons of the mixture on to the baking trays (the mixture should make about 20 biscuits) and bake for 10 to 12 minutes.
6 Remove from the oven and allow to cool.
7 For the filling, cream the ingredients together (initially with a wooden spoon - if you start with an electric whisk you may disappear in a cloud of icing sugar). When the pies have cooled, pair them up and apply a layer of filling to one of the flatter sides and sandwich them together.
Tip
For those who would like to try something more akin to the original, make a hot meringue from either a chocolate meringue pie or a baked Alaska recipe and use that as a filling.
* Extracted with kind permission from Green & Black's Organic: Ultimate Chocolate Recipes, The New Collection, edited by Micah Carr-Hill, published by Kyle Cathie and distributed in New Zealand by New Holland, RRP $49.99.
Be in to win
We have one copy of Green & Black's Organic: Ultimate Chocolate Recipes, The New Collection, edited by Micah Carr-Hill, to give away.
To enter the draw, email your contact details to life@nzherald.co.nz with Green & Black's Ultimate Chocolate on the subject line by midday Thursday February 17.