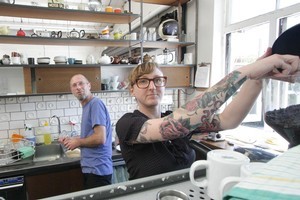 Ponsonby boasts a lot of cafes, but what I like about Good One is its humility. Settled in a suburban street among just a couple of other shops, Good One is a nice little find.
As you enter you immediately notice the dominating communal table in the dining area, surrounded by an eclectic mix of coffee gizmos, a hoard of dated National Geographics and the occasional figurine, chess set or typewriter.
This is a place for the enthusiast - it has a variety of brew devices to buy and Coffee Supreme's blends and single origin coffees. We bumped into a coffee competition judge buying a Swissgold OneCup Brewer and Ethiopian Sidamo beans as a gift.
So, to the coffee. Good One's flat white presented a smooth array of cocoa and lemon zest with a finish of roasted nuts, outranking every other coffee I had enjoyed that morning, with well textured milk. I had an espresso of Indian Monsoon Malabar single origin. I have cupped this bean before and never been overly satisfied - today was different. The cup brought forth a leathery crema, and earthy notes with tones of berry in a pleasant acidic mouthfeel.
Good One provides a coffee experience that lives up to its name.
Good One, 42 Douglas St, Ponsonby, ph (09) 360 5040, open Saturday 8am-3pm, Mon-Fri 7am-3pm.
* Hans Pronk is a top Auckland barista who owns ME Coffee Boutique in Albert St and roasting company Merito Espresso.By Hans Pronk