Nurture those young fruit trees now - they'll need regular watering to make it through summer, says Janice Marriott.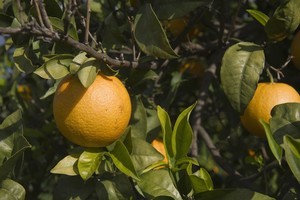 When you're concentrating on the quick-growing salad vegetables it's easy to forget about those fruit trees you planted last autumn or winter.
They might be down the back of the garden, out of sight, and further than the hose can reach. But young fruit trees need regular watering to get them through their first summer.
Water them at least twice a week, two bucketfuls for each tree. This is especially important with citrus trees.
Check also that the trees don't have too many fruit on those pliable, young branches. Remove most of them to give the tree a chance to develop into a strong plant. Pick up any fruit that has fallen to the ground, to prevent bugs regarding your tree as their supermarket. Sulphate of potash encourages fruit. Make sure the stake is secure as wind will distress a tree with young roots.
If you want an outing to a large nursery to see fruit trees thriving, and to ask experts for advice, the Incredible Edibles garden and nursery in Katikati is now open for guided tours of their 3ha of edible plants. edible.co.nz