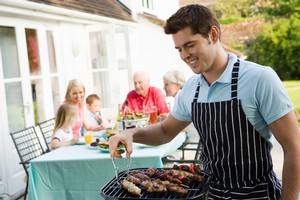 New Zealanders are willing to take the back seat to their Aussie rivals when it comes to barbecues, red wine, cricket and government initiatives, a survey shows.
The Australian winemakers Taylors Wines commissioned a survey to celebrate Australia Day tomorrow. More than 500 New Zealanders were interviewed on what Australians were better at.
Sixty-nine per cent were willing to give bragging rights to Aussies for cooking the best shrimp on the barbie, but 85 per cent were proud makers of lamingtons, 87 per cent thought we were better at Anzac biscuits, 89 per cent preferred our meat pies and 91 per cent our fish and chips.
Australians were also considered number one for their shiraz, at 78 per cent, and cabernet sauvignon, 61 per cent, but New Zealanders remained loyal to homemade sauvignon blanc, 78 per cent.
When it comes to sport, 72 per cent thought Aussies lead the way in swimming, 66 per cent in cricket and 51 per cent allowed them rugby league, but an overwhelming 97 per cent believed the Aussies fall short in rugby.
New Zealanders would most like to steal from their neighbours the Great Barrier Reef, climate, theme parks, Myer and David Jones department stores, supermodel Elle McPherson, and the Melbourne Cup.
Taylor Wines NZ market manager Lara Hoye said the survey results revealed what many Kiwis secretly believe the Aussies were better at, but may be too afraid to admit in public.
"We were surprised by the number of things that Kiwis were willing to admit their Aussie counterparts are better at, so we're hoping that this Australia Day both nations can celebrate all great things Australians in one way or another."
The survey also showed 59 per cent of the New Zealanders surveyed voted for the Australian superannuation scheme, 57 per cent for paid parental leave and "baby bonus," and 49 per cent for tax rates.
More than 45 per cent of New Zealanders said they would cross the ditch to join the Aussies, while 22 per cent were unsure.
- NZPA