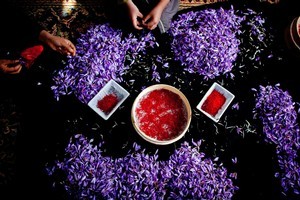 Prized for centuries for its pungent aroma and golden colour, saffron commands the highest price of any spice. Shoppers may wish to query its purity and quality, though.
Food officials have begun an investigation into claims that "red gold" is routinely adulterated with other, worthless parts of the crocus flower in a scam that is defrauding thousands of gourmands.
The Food Standards Agency (FSA) has asked its counterparts in Spain to test the saffron being exported from that country after being tipped off that supposedly "pure and genuine" saffron on sale in Britain is of poor quality, and fails to supply the usual colour and aroma.
An amateur cook in Britain prompted the investigation by using his own money to buy large quantities of saffron to be tested at labs owned by the Ministry of Industry, Tourism and Commerce in Spain, one of the largest exporters. His findings prompted the FSA to intervene.
Saffron should be painstakingly harvested from the stigma of crocus sativus linnaeus, some 85,000 of which are needed to produce a single kilogram. Under international standards, the finest saffron, which sells for £6 a gram, £6000 ($12,500) a kilogram, should have only 0.5 per cent of "floral waste" and 0.1 per cent "extraneous matter".
But the results on 10 brands bought and sent for analysis, passed on by the amateur cook to The Independent, suggest that the use of other parts of the crocus range from between 40 per cent and 90 per cent. In other words, some "top-quality" saffron allegedly contains as little as 10 per cent of saffron.
Adulteration of saffron has been a problem for at least 600 years. Epidemic levels in the 15th century led to the Safranschou code, under which saffron adulterators were fined, imprisoned or executed.
Less dramatically, adulteration of saffron surfaced in West Yorkshire 11 years ago when trading standards officers began an investigation into allegations that stigmas, the tip of the plant's pollen-collecting buds, were being bulked out with worthless material.
Since then, the problem seemed to disappear, but the anonymous saffron buyer noticed a deterioration four years ago.
"I have a passion for cooking. I always use the best ingredients and lately I started to look at the quality and think there was a problem," the cook recalled. "There was something wrong with the saffron."
On the basis of the laboratory reports he has received, exporters appear to be adding in other parts of the crocus after dyeing them with artificial additives.
It would be much cheaper than using 100 per cent stigmas, which must be harvested between dawn and 10am, otherwise they lose colour and aroma. "They are making loads of money out of this," the investigator said.
The agency said: "The FSA takes all allegations of food fraud seriously, which is why it is working closely with Spanish counterparts to discover whether there is any truth in the allegations of fraudulent saffron being placed on the market."
The publicly-funded watchdog stressed the alleged problem was a "food fraud, not a food safety issue".
"There are specialised laboratories in Spain which are carrying out tests on alleged adulterated saffron," it said.
"The agency is liaising closely with the Spanish authorities who are organising these tests. If fraud has taken place, the agency will alert consumers to the fact that they may be being misled."
- INDEPENDENT