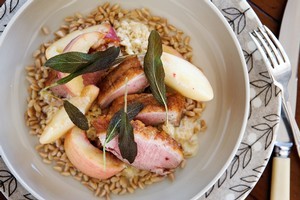 Dinner party
Pan fry or barbecue peaches to accompany roast chicken or turkey breasts and smoked salmon steaks. They cut the richness of duck when combined with fragrant herbs like tarragon or thyme.
Southern comfort
Substitute strawberries to make a classic peach pie (shortcrust pastry, creme patisserie, jam-glazed top) or peach shortcake (layers of sweet scone-biscuits, peaches and cream).
In a pickle or a jam
Peaches make a lovely clear jelly for toast or cold meats - try adding elderflower or rose syrup, sage leaves, cardamom or lime. Make up your usual chutney recipe with peaches and dates instead of apples or feijoas.
Available from Countdown