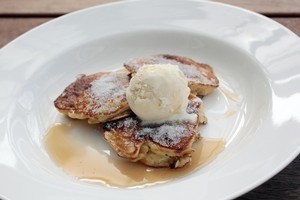 If you thought the barbecue was only good for steak and sausages, check out this week's holiday recipe.
These "Best Ever Banana Fritters" by pastry chef and AUT University senior lecturer Renny Aprea are the perfect sweet treat to top off an outdoor summer meal.
And you won't even have to move inside to cook them.
Aprea says: "A good friend introduced this idea to me many years ago, and any chance to get back to the barbie and produce these delectable bites - or just plain big monsters - will earn you brownie points for sure."
Ingredients:
1 cup flour
1 large egg
1 tsp baking powder
2 tsp vanilla sugar*
1 cup milk (approx)
Bananas, chopped (at least one per person)
* Vanilla sugar - add your old scraped-out vanilla pods to a cup of sugar with one vanilla bean, then blitz in the processor until really fine and dispersed.
Keep dry until needed.
Method:
Place all dry ingredients in a large bowl, crack in egg and then add some milk and stir to just combine ingredients.
Then add more milk and beat with a wooden spoon or whisk until batter is smooth and lump free. Rest in a cooler for one hour.
Then fold in the chopped bananas carefully. Preheat a well-cleaned grill plate.
Spoon out mixture on to oiled and buttered grill plate. (Melt equal amounts butter and oil, preferably olive oil but canola is good too).
Cook until golden each side (about 3-4min) and sprinkle with castor sugar while hot.
Rush inside and plate up with the best vanilla ice cream you can buy and drizzle over maple syrup.
Tip: Topping with a quality yoghurt is a good substitute for the weight or cholesterol conscious.
And, finally, if it's raining take an umbrella or, as an absolutely last resort, use a frying pan on the stovetop.