In Asia and France, watch those escargot.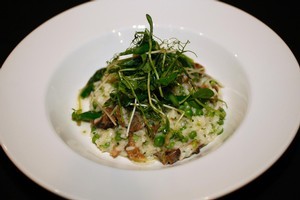 If you think the French are the only ones who love their escargot, well, you are wrong.
Asians, too, have their own version of a snail delicacy, although it's of the marine variety.
Moon snails - named because of their big round shells - are a popular side dish or appetiser for many in the Asian community, especially those from Southeast Asia or Korea.
"We love collecting them at the beach, and we usually find many of them after a storm in Thailand," said Lovey Somchai, originally from Chiang Mai.
The snails are not available fresh here, but are sold in cans at Asian, mainly Korean, grocery outlets for about $8.50.
Miss Somchai says they are usually eaten in a salad, and the dish is "great for summer".
"The snails are sliced thinly, and mixed with onions, fresh cut chilli and sliced cucumber," she says.
"All that's needed to be added on is a dash of fish sauce and lemon juice, and it tastes simply divine."
- by Lincoln Tan
KIWIFIED VERSION
Moon snail risotto.
Chef: Richard Ross, executive chef casino.
Originally from Scotland, Richard has worked in the UK, including at the Ivy in London and the Balmoral in Edinburgh, and was the chef de cuisine at SkyCity's Orbit restaurant. He now oversees all VIP Casino operations at SkyCity and the hotel's in-room dining.
HERALD VERDICT
Three large, shrivelled, dark brown, fleshy snails lay there taunting me, challenging me to both chew and swallow them.
Right from the moment they were put in front of me from a can, I doubted I would be able to do either.
I should have heeded my mother's advice not to play with food before eating it. I poked a snail with my finger and it felt like wet spongy rubber.
It also seemed like a good idea to smell it. It was not.
I cannot really describe the odour because I had not smelt anything like it before. All I know is that it was pungent and I did not want to eat the snails.
Someone told me to convince myself they were field mushrooms, and it was quite easy to deceive myself that they were.
In denial, believing that the curled-up snail on my fork was just a mushroom, I quickly popped it in my mouth. It was no mushroom.
The creature was thick, horribly chewy and tasted strongly of rotten pork.
For the record, I really tried to swallow it, as I did not want to be defeated by a garden gastropod.
But I failed.
After gagging more than three times before realising I would have to digest it if I swallowed, I gave up and spat it out.
Professionally prepared snails were nothing like the hunks of curled-up pungent snail flesh, however.
They were cut into small pieces of dark meat and presented in a delicious-smelling creamy risotto.
I love risotto and I was not going to let a few slimy creatures stop me from enjoying it.
In fact, I could hardly taste the snails and almost forgot they were there. I noticed them only when I had a slightly chewy mouthful. The taste of cream and peas hid any flavour of rotten pork.
I am not sure if I would order the professionally prepared dish, but if it was given to me again I would eat it quite happily.
But if I had to eat the shrivelled-up snails from a can again I would definitely complain.
- by Amelia Wade