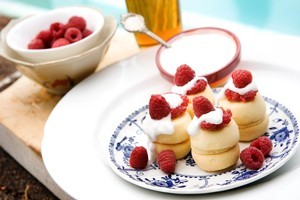 Makes 20
125g butter, softened
1 tsp vanilla extract
1/2 cup icing sugar
1/2 cup cornflour
1 cup plain flour
Lemon buffalo yoghurt
Raspberries
Icing sugar
1 Preheat oven to 150C. Beat the butter, vanilla and icing sugar together until pale.
2 Sift the cornflour and plain flour together then stir into the butter mixture. When well combined, turn out on a lightly floured bench and knead.
3 Roll out and cut to the desired shape. Place on a greased oven tray and bake for approximately 30 minutes, or until just golden. The cooking time will depend on the size of the shortbread.
4 When cool, serve with a teaspoon of yoghurt and top with raspberries; sift over icing sugar if you fancy.