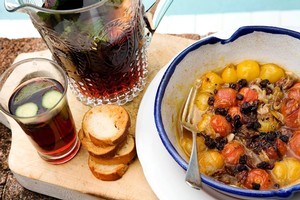 Serves 4
1 Tbs olive oil
1 chorizo
1 tsp rosemary, chopped
1/2 Tbs fresh oregano, chopped
2 garlic cloves, smoked if possible
20 assorted small tomatoes approximately, or 2 punnets of cherry tomatoes
2 Tbs currants
1/4 cup dry Spanish sherry
Salt and freshly ground black pepper
1/2 Tbs extra virgin olive oil
Crusty baguette or sourdough to serve
1 Preheat oven to 180C. Heat a small frypan and add the olive oil.
2 Dice the chorizo and add to the oil with the rosemary, oregano and finely sliced garlic. Gently cook while stirring, for 5 minutes.
3 Spoon into an ovenproof dish, add the tomatoes, currants, sherry, salt and pepper, plus the extra virgin olive oil. Bake for 30 minutes and serve warm or chilled with bread.