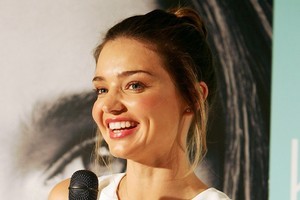 It pains me to start the year on such a curmudgeonly note, but am I the only one already sick of Victoria Beckham's fourth pregnancy?
I know - it was only announced yesterday. But already I predict months of seeing her strange marblish head atop the same sleek, slinky body, with an ever-inflating basketball right under her ribs where her loin fruit is perched.
The reason I'm sick of it, though, is not because she'll inevitably look like a pregnant mannequin, but because I am truly fed up with the fetishisation of pregnant women.
Everywhere, there are supermodels posing naked and pregnant. Pop stars exclaiming how they love their pregnant bodies. Young actresses barely old enough to vote saying they "can't wait" for motherhood.
It's enough to make this woman barf in a non pregnancy-related way.
I know family is the stock-in-trade of women's magazines, for example, but reading them these days might give one the impression that a woman's crowning achievement - her only achievement - is getting herself knocked up.
Her second greatest achievement, of course, being the fact she looks so bloody super-duper throughout her pregnancy and "bounces back" to her "pre-pregnancy body" within 10 days of giving birth.
Look, I like good gossip as much as the next person, and I can even stomach local celebrities in small doses. But do I have to breathlessly exclaim in wonderment when one ex-rugby player's wife is up the duff for the sixth time?! I've already marvelled at her womb-based adventures each of the last five gestations. One baby, I believe, was born on the way to the hospital.
Can I now just say, the whole thing has got a little excessive, a bit out of hand? Does this woman not want to do anything else with her life except endure endless rounds of nappy changing, washing and making macaroni cheese?
Again, reader, please don't think I'm anti-motherhood - far from it. It can be great. But in fact, while giving birth to a nine-pound baby is an awesome feat, it's raising great children and (consequently) great adults that is the real achievement.
Sorry to be crass, but allowing his sperm to meet your egg is not even the half of it. And pulling off the pregnancy "look" is not really the main point either.
Although it seems increasingly important: there is a growing industry cashing in on women's desire to be desirable throughout pregnancy.
Don't let your sex appeal wane through that critical nine months, for goodness' sake!
Heavily pregnant women getting Brazilian waxes are not urban legend - I've heard young beauticians openly discuss the ways and means of stripping the pubic hair off these lumbering ladies without triggering labour.
The other day I was an Auckland department store and stood, gobsmacked, at row upon row of pregnancy lingerie - racy French maid numbers; lacy balconette bras, teddies and feathers were for sale.
Not only that, but dresses made "to birth in" were also on offer. So now we even have to look spiffing as we spit, snarl, heave and moan, do we?
At the Daily Mail, a story suggests lingerie for the pregnant woman has gone a step further still. Control pants for ladies waiting to give birth are apparently the latest fad in Britain.
They keep the bump nice and manageable, especially for those red carpet appearances.
One of the Mail's columnists took the pregnancy body stocking home to show her intrigued husband, who studied the garment with a quizzical look on his face before asking, in all seriousness, "but where does the baby go?"
I know some women might be up in arms about this sentiment. They'll baulk at any suggestion pregnancy is anything less than utterly sacred and special.
They'll insist they have sex nine times a day throughout pregnancy, and emphatically deny that striving to be a hot mama-to-be is in any way retrograde.
They'll say, no doubt, that they do it for themselves, not for men, yadda yadda yadda.
Which is just as well, if an anecdote I once heard at a party is true.
During her home-based labour, a heavily pregnant woman thought she might be relieved by having a warm shower, and asked her husband to come into the shower with her and rub her shoulders to ease the pain.
He did so, and without thinking, as he caressed her flanks, exclaimed "this must be like rubbing elephants down at the zoo".
It might go some way to explaining why most pregnant women are on a hiding to nothing in trying to retain their inner sex goddess!