Herald on Sunday rating: 1.5/5
Address: 417 Tamaki Drive
Ph: 575 8093
Website: lavistanz.co.nz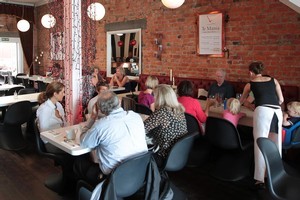 The substance in front of me is paella. I know this because I ordered paella and the waiter said "your paella, sir" as he placed the plate in front of me.
In the absence of these clues, however, I might have struggled to identify it. Its electric orange colour makes me wonder whether I should pass a geiger counter over it before putting any in my mouth. When I conquer my fear and try it the texture reminds me of the modelling clay I used to scrape off the carpet when my pre-school children had gone to bed.
There are signs of sea life in it, although I used the word "life" in the existential rather than the biological sense. The few mussels are sad and dispirited things, perhaps wilted from the effort of trying to escape from their shells because they don't like the company they are keeping.
The menu promised "fresh seafood" and I can't say it's stale, but if the rubbery bits of baby octopus have not recently emerged from a freezer I wish they would crawl into one rather than getting in my meal.
I am not even supposed to be here. I booked for Kahve along the road, which I had long eyed up as one of the best spots in Auckland for a restaurant. But the man who thrust the menus at us and told us to sit where we liked promptly disappeared for 10 minutes. The Professor and I could find nothing we fancied on the menu so we walked, noting as we left that our "waiter" was around the corner having a fag.
At La Vista, we took an outside table with a view of Rangitoto Island, glowering handsomely on a jade sea beneath a slate-grey sky. It was lovely, except when buses pulled up and exhausted straight into our faces.
The waiter was cheerful enough, jolly even, as he brought to our table food that would have been commendable only if served in a student flat.
La Vista claims to bring "a touch of Catalan charm" to the area, but there is not so much as a whiff of escalivada or botifarras on the menu. Instead, it's a kind of pan-Med jumble that runs from Portugal (peri-peri chicken) and Spain (albondigas) through Italy (the lamb's "agnello"), Greece (a meatless moussaka) and Turkey (manti dumplings and cigar pastries). Nothing wrong with such extensiveness if you can do it justice, but they don't. The "bruschetta caprese", sloppily assembled with very poor-quality mozzarella and pesto, which seemed to be store-bought, cost $18.50; the sublime pan de Fernando at Bellota in SkyCity is $7 for goodness' sake, and comes with jamon serrano.
The Prof's tuna was, I fancy, an attempt at a deconstructed salade nicoise but its component parts (hard-boiled egg, green beans, olives, potato) were in separate piles that made the meal look like a buffet self-serve by an obsessive compulsive. The tuna was pallid, as if seared over a cigarette lighter. There was no dressing of any sort. Accompanying both was a "salad", many of whose leaves had the black and greasy texture of that mesclun that you find at the back of the fridge.
Foolishly, we believed the waiter who sung the honey-steeped baklava's praises, and ordered a serving to go. It was hard and, although syrupy, dry. It seemed a fitting end to a distinctly unmemorable meal. With a lovely view.
Ambience: Inside, perhaps
Vegetarians: Stuffed peppers and moussaka
Watch out for: Belching buses
Bottom line: Uninspired and uninspiring
THE BILL
$137.50 for two
Bruschetta: $18.50
Entree/main special (2): $70
Salad: $7.50
Wine (3 glasses): $29
Baklava: $12.50