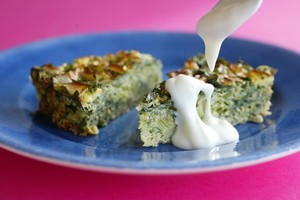 It's been a very long New Year's weekend. You've partied hard and woken up to discover you have a living room full of guests with morning-after appetites. The finger food has long disappeared, but the dairy is open, you've some tins in the pantry and eggs in the fridge. A long, leisurely brunch is called for - preferably cooked on the barbecue - and then nobody will be looking for lunch. Throw some more champagne in the fridge, chill up the tomato juice and start cooking.
Hair of the dog
Set someone to making gentle cocktails to ease folks back into sunlight and the will to live. Mix up a jug of champagne with orange juice, or make a non-alcoholic version of a tomato juice Bloody Mary to keep people on the wagon. Have masses of chilled water and keep those plungers of coffee coming - you're too busy cooking breakfast to faff about churning out individual cups from that fancy new espresso machine from Santa you're still mastering.
Fruity feast
A sleep-deprived and alcohol-abused body needs lots of low-GI replenishments to burn gently away and help sustain the blood sugar. Set out platters of chopped-up fresh fruit, plain yoghurt and granola so people can help themselves.
When there's an egg ...
You could make scrambled eggs for a crowd, but that can be tricky to get right so the last people don't end up with a solid army-style serving. Instead, make a hold-everything frittata. Fry up veges that you have on hand in an oven-proof cast iron pan. Left-over potatoes are essential plus things like peppers, corn, spinach, chopped-up ham or chorizo, mushrooms, onions. Toss beaten eggs over the top of the softened vegetables, cook until the egg is set on the bottom and put the frittata under the grill until it is golden brown and the egg is cooked through. Serve in wedges with a tomato and avocado salsa (with a zing of chilli) or chutneys. Great with bacon or sausages, or leave out the chorizo and you can keep the vegetarians happy. If you have left-over mashed potatoes, stir in salmon (smoked salmon if you're lucky to have leftovers, otherwise tinned is fine), some chopped parsley and an egg or two to bind and fry up the potato cakes. If you have sweetcorn - either kernels sliced off the cob, or tinned whole kernel or creamed corn - add some flour, a touch of baking powder and eggs to make fritters. You can vary them with whatever you have to hand - finely chopped peppers, grated courgettes, chopped fresh herbs. Serve with avocado slices or salsa.
Sweet tooth
If your guests crave sugary treats, round up day-old baguette or brioche (or ordinary bread if that's all you have), soak it in an eggy, milky mix and fry up French toast. Serve with honey or maple syrup and fresh fruit or grilled bananas. Or pile on the fried mushrooms, bacon or baked beans for those with a salty tooth.