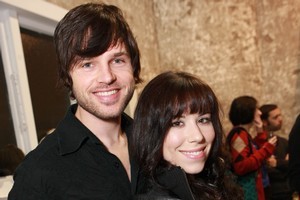 A New Zealander and his US-born wife have won an international competition looking for the 'world's best couple'.
Cameron and Shariyah Morris were named the winners of a 22-carat princess cut diamond ring worth $1 million in the competition devised by Michael Hill Jeweller.
The ring was made to fit US celebrity Kim Kardashian, who travelled the world with it before presenting it to Cameron and Shariyah in New York overnight.
Thousands of couples from the United States, Canada, Australia and New Zealand competed for the ring via a series of online challenges. Members of the public were also encouraged to vote online for their favourite couple.
The final six couples were judged by a panel including Sex and the City author Candace Bushnell and Hill.
Cameron Morris said he and his wife had been "overwhelmed" by the support they had received throughout the six-week competition.
"Shariyah has been itching to get the 22-carat diamond ring onto her finger," he said.
Hill said that after having worked in the "industry that celebrates romance and loving gestures" for more than 30 years, he thought it was "time to do something really special".
"What better way to do that than to give away a rare 22-carat diamond ring?"
Hill said he hoped Cameron and Shariyah would "cherish the diamond as a token of their affection for one another".
- NZ HERALD STAFF