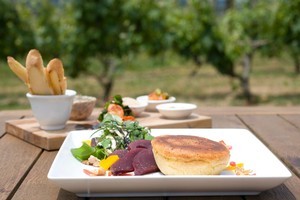 How pleasing it is to watch the chef amble out from behind the stoves into a well-stocked kitchen garden followed by the sound of vigorous chopping before your beautifully garnished meal arrives at the table. This is what country eating is all about, we told ourselves as we sat in the pastoral setting of Plume, even if the view on this particular visit was shrouded in drizzle and mist.
I have never quite understood the idea of wine trails. One vineyard looks much like another with those regimented rows of plants pruned to the last inch. But the Matakana landscape does provide a bit of eye candy and when the sun is shining even routine food tastes better - and the food here is more than routine.
The last time we had dropped in, the Heron's Flight vineyard restaurant sign was absent. Now the owners have joined forces with the Runner Duck Estate and the premises have been freshened up under the name Plume.
We had been tempted to revisit by watching an obviously competent chef in action in the kitchen, which is open to view and by the specials which included sumac and cumin-crusted venison with blue cheese polenta, an offering somewhat more ambitious than many vineyard eateries.
That was a weekend and I suspect the specials board was a bit more lavish than in the quieter midweek but on our Friday visit there was still a decent choice and the standard menu has touches of originality. I have whinged before about boring salads but the haloumi salad with pomegranate and watercress with a lemon and creme fraiche dressing showed some style.
We passed on the special, which was a vegetarian dish similar to one we had eaten the night before and on the curry of the day and started with oysters. It's hard to get these wrong as the local produce is so good. The accompanying shallot vinegar and fiery little lemon vodka shot with tabasco added zing.
At $29 and the most expensive dish on the lunch menu, the steak sandwich promised to be more than a bit of bread with a hammered schnitzel inside, but I opted for the rillettes of pork and duck instead. This was terrific if you are a person who is not alarmed by the idea of "fat and rich" and it was elegantly served with a couple of sweet scallops, pretty crystallised fruit and some of the tiniest gherkins I have ever seen. Our other main choice was twice-baked souffle of gouda, blue and cheddar cheeses, which was good without being outstanding. It came with walnuts, a fresh-tasting pear and rocket salad and grape chutney.
We had enough room for dessert and I toyed with the idea of one of the sorbets they bring in from Charlies Gelato Garden next door (which, incidentally, has absolutely great strawberries). But I needed to be roused from post-lunch torpor and went for what was described as a pick-me-up espresso Genoise with home made mascarpone. This turned out to be a variant on tiramisu and was good. The lime and sour cream cake was a bit on the heavy side but had a nice lime kick and came with an excellent little sorbet.
This being a vineyard restaurant, it would have been perverse not to try the local output and our big 2005 sangiovese and the lighter rosso 2008 both showed the quality which is making the Matakana reputation. The list also offers wine from outside the territory and the Spy Valley Satellite Marlborough sauvignon blanc was crisp and balanced and the Peregrine Central Otago pinot gris was a good example of the variety.
The service was of that amiable and willing, if slightly inexpert, variety so common in restaurants out of town and was not out of character with the relaxed atmosphere of what is a very pleasant place to while away a lunchtime - and they also do dinner on Friday and Saturday.
Rating out of 10

Food: 7
Service: 6
Value: 7
Ambience: 8

Our meal: $115 for a starter, two mains, two desserts and four glasses of wine.

Our wine: The Heron's Flight sangiovese is a standout. There is a well-chosen and reasonably priced list with an adequate selection by the glass.

Verdict: Well presented, good food in appealing and relaxing surroundings.