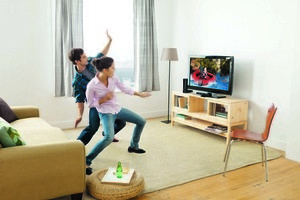 Remember the days when exercising involved pesky things like leaving the house or coming rather too close to other people's sweat in a gym? That's all so five minutes ago.
If you're down with the kids modern exercise is all about the TV and comes cleverly disguised as fun with gaming technology that can turn your living room into a dance floor, gym or even Olympic stadium.
Yes, you could wonder why it's more fun to pretend to kick an imaginary football rather than go outside and try the real thing, but we'll let the roar of our virtual stadium audience just drown them out for now shall we?
The latest incarnation of game-based, at-home fitness plans is the Xbox Kinect - a small-motion sensor box which sits on or under your TV. There's no need for game controllers as the sensor scans and tracks your movements as you play.
It also takes pictures as you flail around pretending to box and jump or dance, and distressingly, plays them back to you.
It brings home just how much I don't float like a butterfly. The social networkers among us can also upload their images and video to the internet to share. Pass.
Once the sensor has scanned my ever-increasing outer limits it's disconcerting but far less judgy, with fewer "oh dears" than personal trainers I've known, I'm good to go.
The basic format for most games is that you follow an instructor on screen and your moves are shadowed and tracked in the background in the form of your motion-sensored self or an avatar.
There's a new flood of "games" on the market to fit the new Kinect technology, some fitness-focused, others more general. The key thing is no matter what you're playing you have to move. Kinect basically doesn't work if you sit down, so if you're like me and consider a big sneeze to be a day's workout, you're going to be moving more than usual which has to be a good thing. Even the starter game Kinect Adventures, which gets you used to how everything works, has you doing squats, jumps and runs before you realise it. Here's a look at some of the fitness-focused programmes:
Your Shape: Fitness Evolved, $97
This is a good to one have at the centre of any virtual workout programme.
It has a huge range of workout options from games that get you kicking, punching, jumping and hula-hooping, to fitness classes or a full personal training programme. Expect to spend a bit of time getting yourself set up the first time you use it, and answering questions about your goals and current fitness level. From there you can select cardio, sculpting or toning workouts. There are workouts targeted to men or women, as well as areas of the body. I can recommend finishing off with a calming "zen" class which is a nice mix of tai chi and yoga.
In most instances you have to start at a beginner level, unlocking higher levels as you complete exercises correctly. It could get a little frustrating for the super-fit freaks among you but on the other hand you'll work through them all pretty fast. For lardy arses like me, the fact that you can't move up a level until you've done exercises correctly keeps you focused and motivated instead of sitting down when it gets a bit hard. It also has old-school home exercise DVDs beaten because you can change the way you workout every time you play.
Kinect Sports, $78
I am, it turns out, a hurdling genius and something of a world-class, if vicious, boxer. Who knew?
Kinect Sports gives you the choice of boxing, track and field, ten-pin bowling, football, table tennis and beach volleyball. The basic rule seems to be if you're good at it in real life you'll do alright in the virtual arena. If you suck at table tennis and beach volleyball in real life, as I do, you will likely suck at them in this too - although practice helps.
Some games give you a better workout than others. Ten-pin bowling not so much, but boxing, football (You play as the whole team which is exhausting. Nobody ever asked David Beckham to do that.) and particularly track and field have you racing and leaping all over the place. It's also a great one to play with other people.
Dance Central, $78
So you think you can dance? Think again. Follow your instructor as he or she grooves to GaGa and Kylie or any number of pop and hip-hop songs.
Think Singstar, only with your booty. Definitely one to be played with your mates. It takes a bit to get the hang of it, even if you're rhythmically gifted. But once you do you are definitely working, especially as you start to progress through the levels.
Zumba, $97
It's apparently illegal now to put together any sort of fitness programme without a touch of Latin American jiggling, Zumba-style. But this is another good one to have on high-rotate in your fitness programme as it really gets you moving. There's a huge range of routines in different dance styles.
TIPS AND TRICKS
All the games tried involved mastering basic techniques to unlock higher level content. It can be frustrating, but serves two purposes: you don't over-egg your effort and end up injuring yourself, and it keeps you motivated rather than just stopping when things get tiring or tricky.
To play - sorry, exercise - you need to stand about 2m back from the screen, so the motion sensor can find you, and you'll need about a 1.5sq m space in which to move - more if playing with others. Watch out for low ceilings or light fittings; there's jumping and arm-waving to be done.
THE EXPERT WORD
Auckland personal trainer Anneka Broad says she is always in favour of getting out of the house to exercise, but games can suit those pushed for time or money. The trick is staying motivated; here are her tips:
Exercise in the morning, it is a great way to start your day and you are more likely to make it habit. And if something pops up during the day you have already done your workout.
Engage a friend or family member to work out with - you are committing to someone else, it's good motivation and also a chance to catch up.
Reward yourself, whether it is a massage, manicure or even a healthy home-made smoothie.
Xbox Kinect and games supplied by The Warehouse, available now; Xbox 360 with Kinect bundle, $558 or sensor only, $214.