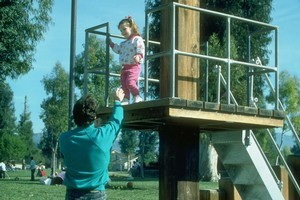 The other day I felt like I was a dirty and sinister old man - even though I'm not and the incident was entirely innocent.
You see, there's a playground in Auckland with a great flying fox. It's a bit slow, but it's for the little kids, not us big ones, so fair enough.
My little girl Mia and I were standing on the platform waiting in line behind these three chatty and polite little girls who couldn't get onto the t-bar.
They were total strangers. Never seen them before in my life, but kids being kids they didn't care who helped them, especially when there was an exciting ride to go on.
So I found myself helping them up onto the bar, feeling awkward at first and then very wary about it.
I had no idea where their parents were. Maybe that was them over yonder - with mum sipping a nice cold pinot gris and dad swigging on his beer - while old muggins here played babysitter.
As I lifted the first girl up I looked around cautiously, hopeful that her mum or dad might magically appear to take her off my hands. They never did.
I picked her up gently but quickly, held her out almost at arm's length as if she was going to dirty my clothes, and plonked her on the ride swiftly.
I had to repeat that another couple of times, and with each lift I again looked around the playground warily in case their parents had suddenly clocked their girls in the hands of this strange looking man.
Because what if I wasn't a nice daddy? What if I was one of those sinister creeps?
Maybe I was being paranoid but my wife - who was at the end of the flying fox watching us - also agreed that, as a bloke, you've got to be careful in these situations.
I know I'd feel uneasy about a strange man lifting Mia onto a ride because, well, I'd rather do it myself thank you very much.
So once Mia had had her go - which was her second run down the wire by the way, so she didn't get sold short because of my paranoia - we were off back to the safe haven of the slides, where no assistance was required. Phew.