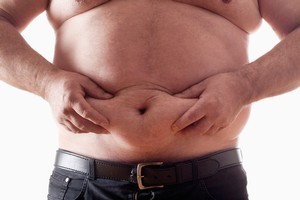 Just one in three Australians could tip the scales at a healthy weight within 15 years, according to latest forecasts of the nation's rising rate of obesity and overweight.
Figures to be released at an obesity summit today indicate 72 per cent of people aged over 25 will have a weight problem in 2025.
Just 28 per cent of the population would be of healthy weight while 38 per cent would be overweight and 34 per cent would be obese, in a scenario researcher Dr Dianna Magliano said was hard to visualise.
"It's hard to imagine what we'd look like as a community like that," Dr Magliano, a senior epidemiologist with Baker IDI Heart and Diabetes Institute and Monash University, told AAP.
"You would have one in three people who are normal, healthy weight while everyone else is chubby or very chubby."
The projections are based on a major population health survey conducted in 2000 and again in 2005.
More than 11,000 people had their weight recorded in the first assessment and 6400 returned to step on the scales five years later.
Dr Magliano said the forecast assumed "things keep going the way they are", and the rate of weight gain seen in the group over the five years would be mirrored across the population up to 2025.
If the nation's 2025 forecast for overweight and obesity was met, it would deliver a huge blow to productivity, while demand on the health budget would "skyrocket", she said.
"The costs are going to skyrocket for Australians assuming these people are not well and, in general, these people don't stay well," she said.
Just in the area of diabetes, 11 per cent or about two million Australians were expected to develop the condition by 2025 if the disease's incidence remained stable but Dr Magliano said it could increase to 17 per cent, or about three million people.
Diabetes, including type 2 diabetes which is caused by genetics and lifestyle, is already the main source of demand for an organ transplant in Australia, and kidney donation rates are not meeting the existing demand.
Central to averting the nation's increasingly obese future is to turn around the trend of increasingly sedentary lifestyles and "calorie dense" diets.
"Push yourself away from the table, that's the best exercise you can do," Dr Magliano said, offering some general advice for the population.
The 2025 forecast was based on data from the Australian Diabetes, Obesity and Lifestyle study, which is the largest national population-based study in Australia.
The figures will be presented at the Victorian Obesity Consortium Symposium 2010, at Melbourne's Monash University.
- AAP