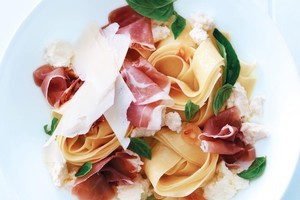 Serves 2
200g wide pasta or rigatoni
2 Tbsp olive oil
4 cloves garlic, sliced
Sea salt and cracked black pepper
3/4 cup ricotta
2 tablespoons basil leaves
6 slices prosciutto, torn
Finely grated parmesan, to serve
1 Cook the pasta in a large saucepan of boiling salted water for 8-10 minutes or until al dente. Drain, keep warm and set aside.
2 Return the pan to the heat and add the oil, garlic, salt and pepper and cook for 1 minute. Return the pasta to the pan and toss to coat.
3 Place pasta on serving plates and top with the ricotta, basil and prosciutto. Sprinkle with parmesan and serve.
For more recipes by Donna Hay click here.