Pets can play havoc with plants. Janice Marriott has sneaky ways to distract them.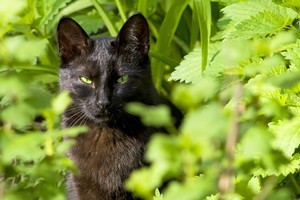 Yesterday I found a whole patch of basil seedlings had been flattened to make a sun bed. This was the cat's doing and I realised there was nowhere else at all - no bare soil - in the garden for him to sleep in comfort.
Cats appreciate a mulch of sun-warmed straw so pile some up somewhere other than the edible garden. Put piles in at least three other places as cats move around the garden during the day. Surround your seedling bed with a palisade so it's like a pa site, rather than a warm pillow. Plant a border of "Six Hills Giant" catmint as far from the veges as you can, to tempt cats away.
Raised beds will discourage lazy labradors but terriers and staffies will jump up into them if you don't have netting as well.
If you give the dog a bone, don't get cross when he digs a hole to bury it in the potato plot (there's nice loose soil there).
A vegetable garden is no place for dog poo as it can contain roundworm eggs which, if they get on to your hands, can end up multiplying in your gut.
A bird table is a good thing but if it's in the edible garden you'll end up having your salad dressed before you've even picked it.