Create an easy festive menu - think succulent turkey, baked ham, or sirloin on the barbie.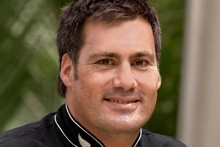 I don't know about you, but for me meat is the fun part of any Christmas menu.
It's the point at which the bloke can escape all other duties to make preparations for the barbecue.
Our warm, balmy Southern Hemisphere Christmas lets us make the most of the barbecue for festive cooking - helping alleviate the stress factor.
But even if you're going for a more traditional Christmas dinner there are ways to cut back stress and preparation time.
With that in mind, let's talk turkey. So often, many of us veer away from turkey, fearful of overcooking it or it taking too long to thaw and cook. But follow this guide and it should be straightforward and stress free.
Take a 5kg turkey (defrosted overnight, if necessary, in the refrigerator), remove the giblets and dry the cavity with a ball of paper towel. Cream a cup of butter with lemon zest and apply between the breast and skin along with fresh thyme. Remove the wishbone to allow for easier carving.
Place the turkey on a cooling rack, season all over (smoked salt is great for this) then place in a pre-heated 240C oven for 20 minutes to seal the outside.
Turn the oven down to 120C and continue to cook for 3 hours. Don't forget to rest it for 20 minutes before serving.
With meat and poultry cooking it is a good idea to invest in a meat thermometer. With your turkey, take the temperature between the thigh and breast, and when it's 79C it should be perfect.
When it comes to that other essential Christmas meat - the ham - I'm a fan of Freedom Farm's half champagne hams.
There are numerous glazes for ham but having a face full of smoke upon opening the door isn't pleasant.
To avoid this, bake the ham on parchment paper in a deep-sided Dutch oven. Remove the skin and score the fat. Instead of using cloves, partially strip rosemary sprigs and spike into the ham.
Now, back to that barbecue with the blokes.
Take some sirloin, trim the fat and sinew, then split lengthways to create two loins.
Your guests will swear they're eye fillets and you'll have saved a bundle of money.
Rub the loins with parmesan-infused olive oil and oregano and roast inside the barbecue.
Finally, this Christmas I am on the hunt for the Rolls Royce of "snags" - no more burned pork sausages for me.
This year I'm cooking Little Boys North African Merguez; Riccarton's Mariano chorizo; and Salumeria Fontana French Toulouse sausages, pricked and steamed first for four minutes, then splashed with olive oil and finished on a medium chargrill.
The steaming process means they hold their shape, much like the frankfurter in an American hot dog.
Speaking of which, Christmas meatballs made with allspice, barbecue sauce and rolled through fine polenta accompanied with green tomato chutney make a great snack while the bloke perfects the barbecue.
By Paul Jobin