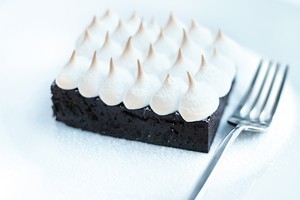 Serves 10
Decadent chocolate fudge crowned with meringue peaks would end any evening with wicked indulgence, setting the tone for the season to come.
400g dark chocolate, chopped
120g butter, chopped
1 cup brown sugar
1/2 cup pouring cream
5 eggs
2 Tbsp plain flour, sifted
4 egg whites
1 cup caster sugar
1 Tbsp cornflour, sifted
2 tsp white vinegar
.1 Place the chocolate, butter, sugar, and cream in a medium saucepan over low heat and stir until the chocolate is melted. Place the eggs and the flour in a bowl and whisk to combine.
2. Slowly whisk the chocolate mixture into the egg mixture until well combined and pour into a lightly greased 20cm x 30cm tin lined with non-stick baking paper.
3. Place in a baking dish and pour in enough boiling water to come halfway up the sides of the tin. Bake for 1 hour and 10 minutes or until cooked when tested with a skewer. Cool completely.
4. Preheat oven to 180C. Beat the egg whites until stiff peaks form. Add the caster sugar and beat until the mixture is glossy. Fold through the cornflour and vinegar. Pipe the meringue on to the fudge and bake for 10 minutes or until golden.
For more recipes by Donna Hay click here.