Janice Marriott welcomes weeds, but not all of them.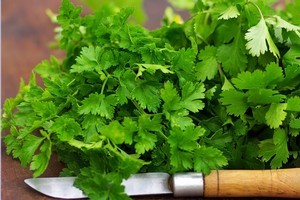 My garden isn't perfect. It hosts the occasional unwanted overstayer; wandering willie, convolvulus, oxalis, and grasses.
The main weeds now, however, are coriander, borage, nasturtiums and honeywort. I pull some of them out but not all of them. You can never have too much coriander. It tastes good, root, stem and leaf. I use the seeds too, roasted and ground. Borage, meanwhile, attracts bees to pollinate the crops. Its delicate blue flowers are pretty in salads or frozen in ice blocks.
Nasturtium leaves a peppery taste in salads. Honeywort has an elegant blue and purple flower and my peas climb up them before they find the strings they are meant to use.
If a dandelion appears, the young leaves provide that slightly bitter taste for salads. Creeping thyme moves through the garden, as does oregano. I keep them in check by trimming them for pesto and pizza. Heirloom lettuces, parsley, fennel, rocket and dill self-seed easily, too. Any of these prolific plants cover bare patches after I've picked a cabbage or lettuce to eat. They are easy to pull out. They are welcome weeds.