The economic recession and increasing awareness about environmental and ethical concerns have spurred many in the fashion industry to look more closely at its image, writes Cathrin Schaer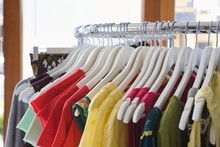 Dearly beloved, we are gathered here, around Viva today, to bid a long and loving farewell to one of the fashion industry's most influential players.
Yes, after a short bout of rising costs - complicated by a lack of creativity and one too many celebrity trends - followed by a battle with consumer concerns about ethics and environmentalism, fast fashion has finally kicked the bucket.
Those who enjoyed a cheap thrill and the democratisation of design will mourn this flighty tyrant's passing. Others, who prefer investment dressing and who have come to believe that delivering new clothing collections to stores every fortnight was killing off creativity, may well be rejoicing.
Okay, so maybe we are getting a little bit ahead of ourselves here. But, if headlines over the past month or so are to be believed, then the prognosis for fast fashion is fairly grim. Fast fashion is the popcorn of the garment industry. Or maybe the fish and chips. It's tasty, it's cheap, it's not particularly nutritious and nor is it good for you. In many cases, it costs so little that it is also disposable: Wear 'em once, chuck 'em out. And it is the major success story of the garment industry of the past decade.
But last month in Britain - where you will find some of the fastest and cheapest fashion in the world - newspapers reported that the heads of some of the biggest clothing chains there were warning of rising costs and therefore rising prices for fast fashion, which would eventually be passed on to consumers.
Clothing prices have either remained steady or risen by only a little. But this year, a major rise in the price of cotton worldwide with September prices per pound reaching their highest level since 1995 will have an effect.
The cotton price rises are being driven by increased demand for - but decreasing supply of - cotton as well as issues in cotton-exporting countries such as Pakistan and China, where floods and drought have had an impact. And economists predict prices may go even higher.
At the same time, the cost of labour in what are often called the "workshop countries" - nations like China and India, where clothes are manufactured because wages are lower than elsewhere - is going up.
Sure, the prices being paid to workers in China's factories are still low. The New York Times reported in June this year that the hourly wage in southern China was only about 75c an hour. But various economic forces - including a shortage of migrant labour in factories, increasing enforcement of regulations about workplace conditions and the Chinese Government's desire to fuel domestic consumption - mean those hourly rates are rising, according to some forecasters at around 10 per cent per year.
All of which led the head of one of Britain's biggest clothing chains, Next, which has more than 500 stores, to predict that clothing prices would rise by 8 per cent and that, "the era of ever-falling prices [for clothes] is over".
A similar situation applies in New Zealand. According to Mapihi Opai, executive officer of the industry body Fashion Industry New Zealand, rises in the costs of raw materials and in manufacturing costs are having an impact on the apparel manufacturing and retail this country too.
"The industry is taking a hit on its margins," Opai explains.
"And they can deal with it in two ways. Either [they] can try to cut costs and make shortcuts in terms of design and workmanship, or [they] can start charging more."
But there is yet another nail being hammered into fast fashion's coffin. And this involves consumer sentiment.
Is your wardrobe so full that you cannot see the designer dresses and well-cut trousers for the sea of cheap T-shirts and crappy knitwear? Well, you are not alone.
While fast fashion doesn't appear to move quite as fast, or cost quite as little, as it does in Britain, we definitely enjoy a spot of fast fashion.
The Consumer Price Index indicates that the cost of clothing has gone up by less than 10 per cent over the past 10 years, yet we spend around 80 per cent more on clothing. This means we must be buying a lot more clothing than we used to.
Lots of frocks at low, low prices leads to a market full of quantity rather than quality. So why would you want to buy more of the same?
"I believe we have a hit saturation point with this, that things are out of balance," Opai says.
"It is good that there is great clothing at all price points. But I just think it needs to slow down a bit."
Opai is not alone in this opinion. Concerns about the ethics of inexpensive garments (that old saying that if you are not paying much for that summer dress, then someone else, somewhere else, must be, and it could be a 12-year-old embroidering sequins in a Bangladesh factory, 10 hours a day) and the environmental impact of the continuous search, and purchase, of the next big thing are increasing.
In fact, the consulting director at Verdict Research, which analyses the British and European retail sector, told the Observer recently that he felt fast fashion was no longer a novelty and some followers of fashion were "trading up" and spending more money on fewer garments that would serve them longer.
Kim Fraser, a senior lecturer in fashion at the Auckland University of Technology, believes that when it comes to environmentally friendly practice and consumer attitudes in the fashion industry, New Zealand is lagging behind the Northern Hemisphere.
Therefore, she says, she can't confirm a New Zealand consumer rejection of fast fashion - at least, not yet.
"I am not sure if there is a consumer backlash here. I don't think there are enough people who care yet," says Fraser, whose research into recyclable clothing indicates that between 80 and 90 per cent of clothes we buy in New Zealand have no "second life"; that is, they are not reusable because of the way they were made in the first place.
Fraser says that she lectures to second year design students every year.
"About 30 per cent of the students will say, 'what do we do about this big problem?' And the other 60 per cent are often just going, 'well, okay, but this doesn't really affect me'."
It might in other ways though. Because, interestingly enough, current international fashion trends also seem to be reflecting a kind of consumer backlash against disposable clothes.
There's been a new sort of sobriety creeping on to runways recently - all beige, and grey and sensible suiting - that possibly reflects both the fact that a worldwide economic recession makes designers more cautious about presenting outrageous or frivolous looks and the fact that some cashed-up leaders of style are starting to concentrate on beautifully cut but more expensive, investment pieces rather than throwaway frocks.
Which brings us to the wreath of black roses high-end fashion designers are grimly hanging on to, waiting for an opportunity to cast it in front of fast fashion's hearse.
At the IAF World Apparel Convention in Hong Kong in October there was a session controversially titled: "Is fast fashion killing fashion?"
Those attending heard how the concept of fast fashion, in tapping into ever-decreasing attention spans, a need for continuous stimulation, ever-increasing, online information flows and what Opai calls "hyper-communication", had even forced luxury brands to change.
Where once the apparel industry had two seasons, winter and summer, there are now between 30 and 50 mini-seasons every year. That is because to keep shoppers interested and coming back for the latest thing, fast fashion stores change their stock every few weeks.
And even designers working at the pricey end of the spectrum have had to adapt to the changes that fast fashion has forced upon the industry.
The British heritage label Burberry presented a perfect example at the most recent London Fashion Week. Burberry has always been at the cutting edge of digital technology and this season, as soon as their Burberry Prorsum runway show had hit the internet, the clothes became available for sale on their website.
Though customers might have been happy that they could get the immediate thrill of the purchase, via their credit cards, not all the fashion critics agreed.
As respected British runway reviewer Sarah Mower concluded on Vogue.com: "The problem with direct selling of this kind is that it can cut out a designer's ability to ... to experiment ... rather than satisfy the need to make something that has to be ready to arrive at someone's door in six weeks."
In a later story for a British newspaper, Mower went on to say "most [designers] have bowed to inevitability [of fast fashion] and carry on regardless, privately sobbing over unreasonable schedules and the impossibility of being creative at such short order".
Influential others have said the same thing - including Lanvin designer Alber Elbaz, who is set to release a highly anticipated collaboration with H&M on November 23.
In the press release announcing the line, Elbaz explained, "I have said in the past that I would never do a mass-market collection, but what intrigued me was the idea of H&M going luxury rather than Lanvin going public."
"What does luxury mean today? Can luxury be exclusive and democratic at the same time? How can we translate the essence of luxury to a wider audience? The world around us is changing rapidly and I find myself asking these questions more and more.
"Designers' work is usually tailored to a very small group of people, but the collection for H&M was about trying to translate the dream of luxury to the masses. It was almost like going back to school for me," said Elbaz.
So what does it all mean? Is this really the end for fast fashion? Will we soon see stores like Glassons, Supre and Portmans closing their doors for good - or if not that, then maybe changing the way they do business?
To be honest, it's a little premature to be writing fast fashion's obituary. After all, local fast fashion companies, like Hallenstein Glasson Holdings are still making fairly hefty profits. In September they announced a 53 per cent rise in full-year profit, with their net income going up to $19.6 million.
And nor can we turn back time. Fast fashion is here and we have to deal with it, for better or worse.
As Opai concludes: "The real question is: is this thing we call fast fashion a sustainable business model?"
So maybe the point of all of this is actually to make us think a little more carefully about what we buy. When fast fashion came along we were mad for it.
Overjoyed at the democratisation of fashion, because we could get great looks copied directly off the European catwalk without the equivalently high price-tag, mightily pleased that we could treat ourselves to a little something for Saturday night without remorse.
Happy fast fashion was, well, so fast. But now our cupboards are seriously stuffed with things we have only worn once and in the face of an ongoing recession, rising prices and other more esoteric concerns, we are having to pause for thought before pulling out our wallets, maybe it is also time to give some serious consideration to how much "stuff" we really need.
By Cathrin Schaer

Email

Cathrin