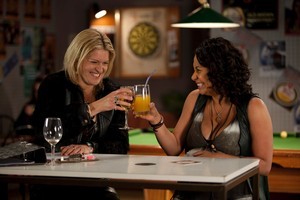 Auckland Museum will allow fans to relive some of the magic of Outrageous Fortune with its new exhibition, opening next month.
The display will pay homage to some of New Zealand's favourite television drama characters by giving audiences a sneaky peek behind the scenes.
Curator Amanda White says as well as recreating the interior of the West house, the exhibition takes visitors back to the show's genesis, from the actors' audition reels, to the way the make-up and wardrobe departments turned Robyn Malcolm into Cheryl West, and Antony Starr into twins Van and Jethro.
Most of the content will be arranged around the characters in a way that will encourage visitors to apply the show to their own lives.
"What we do with the visitors is put them in a position where they are going to be faced with those kind of value questions: where do [their] loyalties lie? One of the great things about choosing to do an exhibition on this, is that yes, it's a fictional story, but it has all these connections to what we see around us all the time, including, of course, that the notion of the Westie is not a purely geographic notion, it's become a social idea as well."
This week the museum also launched a national search for the next Cheryl West. Judges are looking for someone who channels their inner Cheryl - the tousled, busty look is an optional extra. Wannabe Wests can upload their details and a picture of themselves to the museum's website.
A 3D feature is also planned but details are all under wraps at the moment.
*Outrageous Fortune: The Exhibition opens December 15 at Auckland Museum
-TimeOut