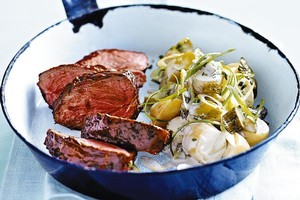 Celebrate spring with the season's favourite meat - tender, juicy lamb. From melt-in-the-mouth rump to generously spiced backstrap or simple cutlets, lamb's flavour and versatility is the perfect match for spring's abundant produce.
Serves 4
1 cup tomato sauce
2 Tbsp maple syrup
2 Tbsp Worcestershire sauce
2 tsp smoked paprika
4 x 200g lamb rumps
800g waxy potatoes, peeled and chopped
1/2 cup whole-egg mayonnaise
1 Tbsp chives, chopped
2 spring onions, thinly sliced
1/4 cup chopped gherkins
Sea salt and cracked black pepper
1 Place the tomato sauce, maple syrup Worcestershire and smoked paprika in a bowl and mix to combine. Add the lamb and toss to coat. Set aside to marinate for 10 minutes. Place the potato in a medium saucepan of salted cold water and bring to the boil. Cook for 18-20 minutes or until tender. Drain and set aside to cool.
2 Pre-heat a chargrill pan or barbecue over medium heat. Chargrill or barbecue the lamb for 6 minutes each side for medium or until cooked to your liking. Place the potato, mayonnaise, chives, spring onion, gherkins, salt and pepper in a bowl and mix to combine.
3 Slice the lamb and serve with the potato salad.
For more recipes from Donna Hay click here.