Herald on Sunday rating:
Address: 393 State Highway 16
Phone: (09) 412 7206
Website: allelyhouse.co.nz
Open: Dinner: Wednesday - Saturday; lunch: Thursday - Sunday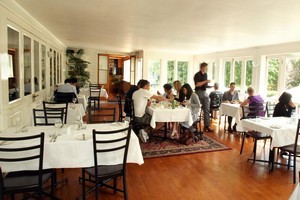 My last - and first - visit to this restaurant, on the city side of West Auckland's wine country, was memorable for all the wrong reasons. The service was beyond incompetent and the food third rate.
"In terms of value for money," I concluded, in the only one-star review I've ever written, "it is probably the worst meal I've ever eaten; if I leave the price out of the calculation, it is only very near the bottom."
Not long afterwards I drove past and noticed a big sign saying "Chef wanted", which seemed sad to me - not because the chef had got the sack but because the restaurant apparently thought the way to find a replacement was to stick a sign on the roadside.
Five years on the place has re-opened under new ownership. Head chef Kevin Blakeman, a Liverpudlian by birth, is only in his mid-20s but has racked up a busy CV including four years in the kitchens at the Houses of Parliament in Westminster and working at the in-house restaurant for the London branch of the Lehman Brothers (of international economic meltdown fame; still, let's not hold that against him).
I approached the assignment with some reluctance: putting the boot into a place twice is not my idea of fun, not least because it involves spending an evening having a god-awful meal. But I need not have worried. The only resemblance this place bears to the restaurant I reviewed five years ago is the name and location.
It's a handsome heart-kauri villa, relocated from Henderson 25 years ago to the property that was, at that time, a Selaks vineyard. The setting, amid groomed gardens, includes a petanque court, although the interior is a little cheerless and the entrance rather unattractive.
It will presumably be prettier as the days get longer but on one of those unseasonably cold evenings we endured in the spring the bare windows gave it a spartan feel. The interior windows that separate the restaurant area from a cavernous function room would benefit from being curtained off, too.
And what comes out of that kitchen is enough to put my Allely House memories - soggy bruschetta, limp fries, excessively well-aged steak - well behind me.
The Prof was very pleased with the manuka-smoked eel which came with a puree of parsnip and caramelised apple and I enjoyed an entree-size serving of risotto, not sloppy, but perfectly al dente and inventively pairing scallop and black pudding.
Mains were equally impressive. I was at first moved to try one of the two dedicated vegetarian mains just so I could commend Blakeman for showing such respect to vegos - I had received an email that week from a lifelong vegetarian sick of being fobbed off with a thoughtless pasta - but decided I could do so anyway without missing out on the duck.
This was a tasty duo - a slow-cooked breast and a confit leg shredded into a delicious ragout, served with roasted baby beets. The Prof's salmon dish went one better, offering a trio of tastes: gravlax, tartare and roasted fillet. A shared tarte citron made a satisfying finish.
Blakeman, who sources most of his ingredients locally, has a tempting lunch menu with all prices under $20, too. As the weather gets warmer it's enough to make the drive out West worthwhile.
Ambience: Not much
Vegetarians: One entree, two mains
Watch out for: Boules
Bottom line: Much improved
THE BILL
$121 for two
Eel: $16.50
Risotto: $17.50
Duck: $29.50
Salmon: $28.50
Wine (2 glasses): $15.50
Lemon Tart: $10.50
Tea: $3