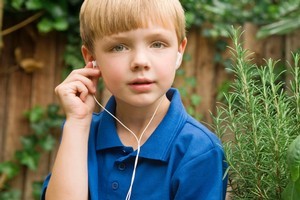 So, kids as young as three want iPhones, or maybe an iPad, for Christmas do they? Well, my little Mia - who's coming up 3-years-old - will be getting my old first generation iPod mini that no longer works.
It's about to be consigned to the toy box - and she'll just have to imagine listening to Katy Perry, the Wombles, Led Zeppelin, or whatever the heck the kids are into these days.
Expensive iGizmos are what kids most want for Christmas according to one of those overseas surveys, which always make me wonder what relevance they actually have in New Zealand. Although, I have to say, Mia is drawn to our MacBook like a kid to cake, and when she's allowed to she can manipulate the mouse with a natural ease.
But an iPad? Of her own? Like hell. I'm never likely to get one myself so I wouldn't consider getting her one.
And besides, we've got another more pressing iProblem. It's called the iWant, the sentiment of which was illustrated brilliantly by a cartoon in the Herald this week.
You see, Mia has got into the habit of asking for something with an incessant "I want".
We realised how bad it had got at a friend's BBQ last weekend when Mia wanted to hold baby Aimee (she loves little Aimee).
She tugged on my wife's leg and whined relentlessly, "I want to hold her. I want to hold her."
It made us cringe. And we don't blame her. It's our fault for not picking up on it earlier. But it was embarrassing so we jumped into action.
Now we're the relentless nags saying, "You don't say 'I want'. You say, 'May I please have a...'."
She's slowly coming round to the polite way to ask for something and maybe, just maybe, if she says, "May I please have an iPhone for Christmas?" I'll consider it.
Before saying, "Sorry honey. Not this year." Or any year soon for that matter my little munchkin. Go kick a ball, bounce on the tramp, or play with your dolls house.
And you can talk to your friends when they come over for play dates rather than on bloody Facebook.