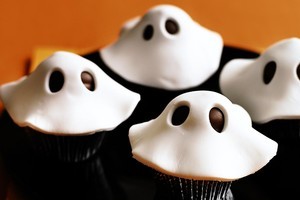 Before the little ghouls, goblins, ghosts and witches set out for a night of trick or treating on Halloween, prepare these devilish treats to send them on their way.
125g butter, softened
3/4 cup caster sugar
1 tsp vanilla extract
2 eggs
1 1/4 cups plain flour, sifted
1 tsp baking powder
1/2 cup milk
12 chocolate marshmallow biscuits
2 x 500g packets of ready-to-roll white fondant icing.
Vanilla butter icing
250g butter, softened
2 cups icing sugar, sifted
1 tsp vanilla essence
1. Preheat oven to 160C. Place the butter, sugar and vanilla in the bowl of an electric mixer and beat until pale and creamy. Gradually add the eggs and beat until well combined. Add the flour, baking powder and milk and beat until just combined.
2. Spoon into 12 x 1/2 cup-capacity muffin tins lined with paper cases and bake for 15-20 minutes or until cooked when tested with a skewer.
3. To make the icing, place the butter in the bowl of an electric mixer and beat for 6-8 minutes or until pale and creamy. Add the icing sugar and vanilla and beat for a further 10-15 minutes or until light and fluffy.
4. To assemble, spread the icing over the cupcakes and top with a biscuit. Makes 12.
5. To decorate, roll out the fondant icing to 4mm thick on a surface lightly dusted with cornflour. For the sheets, use an 11.5cm round cutter to cut out 6 rounds. Use a 1cm round cutter to cut out the eyes. Carefully place the icing over the cakes, folding the edges to create a ghostly sheet effect. The domed marshmallow biscuit on top of the cupcakes will give you the height you need for a flowing sheet.
* For more recipes by Donna Hay click here.