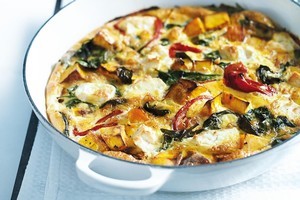 One of the most versatile meals, a frittata spans the menu from brunch to dinner and is a blank canvas for your culinary imagination. A robust pumpkin and feta will become a family favourite, ready to prepare in a flash.
Serves 4
500g butternut pumpkin, peeled and chopped
1 1/2 Tbsp olive oil
1 tsp dried chilli flakes
Sea salt and cracked black pepper
100g baby spinach leaves
100g roasted capsicum, sliced
1 cup basil leaves
200g feta, crumbled
6 eggs
1 cup pouring cream
Preheat oven to 200C. Place the pumpkin, 1 Tbsp olive oil, chilli, and salt and pepper in 30cm round ovenproof baking dish and toss to coat. Roast for 25 minutes or until golden and tender. Heat the remaining oil in a non-stick frying pan over high heat. Add the spinach and cook for 2 minutes or until just wilted. Add the spinach, capsicum, basil and feta to the pumpkin. Place the eggs, cream, and extra salt and pepper in a bowl and whisk to combine. Pour the egg mixture over the pumpkin and bake for 15 minutes or until puffed and golden.
Tips and tricks
Frittatas make for a fantastically fast weeknight feast. You can be as creative as you like and use your favourite cheeses, meats and vegetables. Frittatas are also great for using up any leftovers, such as roasted chicken, vegetables and bacon.
Great served cold, frittatas are perfect for picnics. Simply make the frittata beforehand, wrap in aluminium foil and place in the fridge until you're ready to go.
Serve with a fresh green salad for a more substantial meal.
Be sure to use a frying pan with an ovenproof handle when cooking your frittata in the oven. Using a non-stick frying pan will also ensure your frittata doesn't stick to the bottom and is easy to remove.
For more recipes by Donna Hay click here.