High vegetable prices got you down? Janice Marriott suggests growing your own cash crops.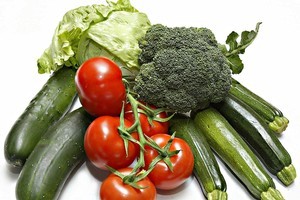 With bad weather disrupting supermarket vegetable supplies, the high cost of fresh food at this time of year and the increase in GST I want to be more frugal. In the supermarket I noticed broccoli at $3.75, old cabbage for $3, silverbeet for $2.50 and six spring onions in a bag for $2.99. I went home, picked a large bunch of silverbeet for dinner, and checked my row of plump spring onions. I now regard them as a cash crop. Although the onions, once pulled and eaten, are gone, the silverbeet, loose-leaf lettuce, peas, and herbs, are the sort of plants that will happily grow more after you pick from them.
For $3 you can buy a supermarket lettuce, or a packet of salad mix seeds.
If you sow small amounts of these each week, you could be eating $3 worth of salad greens for a whole year. Seedlings are easier to grow than sowing seeds.
The best value seedlings are from Awapuni Nurseries, where a bundle of 20 seedling spring onions are $2.99. Other $2.99 bundles, from their website (awapuni.co.nz) include nine cabbages, four sweet basils, six tomatoes or nine silverbeet.