Whether they're retro or quirky, cutting-edge or glamorous, the right sunglasses will transform your look. Don't be timid when it comes to your shades this summer, make a statement.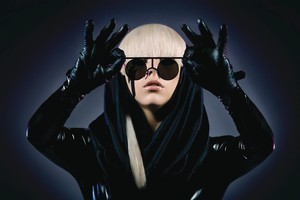 Whether it's making us look as if we've just stepped off stage at the Big Day Out or straight off a luxury yacht, we have high expectations of our sunglasses.
We want them to create mystique, hide a hangover or protect our eyes, and actually this isn't too much to ask. A well-chosen pair really will bestow instant cool - at least from the neck up. As Jack Nicholson, one of the few people who can get away with wearing sunglasses indoors once said, "With my sunglasses on, I'm Jack Nicholson. Without them, I'm fat and 70."
For years, the sole goal of sunglasses was glamour and Jackie O was the poster girl. That era was followed by a wave of giant bug shades favoured by celebrities pretending they didn't want to be photographed; then the reign of the Wayfarer.
Now, however, the look - or rather looks - are a whole lot quirkier and there's more variety. Ray-Bans are still going strong - Mossy continues to favour oversized Wayfarers in black or tortoiseshell - but it's no longer a uniform. Surprise, surprise, the desire to make a statement is partly thanks to the Lady Gaga effect.
While her shades made of cigarettes are unlikely to catch on, bold designs such as the Jeremy Scott mouse-ear glasses she wore in the video for Paparazzi or her penchant for a robo-visor, make us more amenable to experimenting. After all it's a lot easier to pull off some crazy shades than a lace bodysuit.
One of the biggest trends at the moment is for round shapes. While they aren't recommended for the round-faced - that way the Kelly and Ozzy Osbourne effect lies - the style beloved of Magenta Devine is back. We love the retro-inspired 'Audrey' shape by Oliver Goldsmith and even bug-shades fan Victoria Beckham has introduced a circular pair to her range. Favoured by Florence Welch, the Ray-Ban 4141s are an easier-to-wear take on circular frames and Erdem's first sunglasses - in collaboration with Cutler and Gross - include small, round frames with a watery floral pattern that echoes the prints on his spring/summer collection.
Florals are also a micro-trend: note Ray-Ban's flowery Wayfarers and Miu Miu's floral print frames, while pale and dusty pink frames are also having a moment.
Anyone who wants to strike a rather harder, edgier pose might prefer a more futuristic or visor style. Balmain have launched their first eyewear designs in collaboration with Oliver Peoples, and the two limited-edition pairs of sunglasses focus on an ultra-sleek rock look. Other hip collaborations include Alexander Wang's new capsule collection of frames, produced with Linda Farrow.
Not everyone has the bravado or desire to look like a character from Futurama, so thankfully retro frames are still going strong. Stella McCartney has taken the retro cat's eye frames and made them even bolder and funkier. Look out for John Galliano's first sunglasses collection, which "blends old-school glamour with high-tech romance," for styles with plenty of depth to the lens and high arms, and 70s colours such as smoky pinks, browns and creams.
These are often much more flattering than black, as is tortoiseshell, against paler skins, while brights look great on darker complexions. Don't get too hung up on face shape rules though - one can't imagine iconic sunglasses wearers such as Patti Smith or Debbie Harry in a Specsavers store agonising over whether Wayfarers make their face look long.
- INDEPENDENT