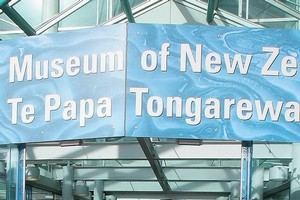 A warning for pregnant or menstruating women to stay away from a Te Papa exhibit tour is just an advisory and women could decide to ignore it, Arts, Culture and Heritage Minister Chris Finlayson says.
An invitation for regional museums to go on a behind-the-scenes tour of some of Te Papa's collections included the condition that "wahine who are either hapu [pregnant] or mate wahine [menstruating]" were unable to attend.
Mr Finlayson downplayed concerns, saying he did not get involved in the day-to-day running of Te Papa, but he understood the message was not an instruction.
"It's an advisory requested by the iwi, but it's for people to make up their own minds," he said.
Jane Keig, Te Papa spokeswoman, said the policy was in place because of Maori beliefs surrounding the Taonga Maori collection included in the tour.
She said the rule was one of the terms Te Papa agreed to when they took the collection.
"If a woman is pregnant or menstruating, they are tapu. Some of these taonga have been used in battle and to kill people.
"Pregnant women are sacred and the policy is in place to protect women from these objects."
The policy is not in place for the general exhibition.
If an object is tapu it is "forbidden" and in Maori culture it is believed that if that tapu is not observed, something bad will happen.
Women who plan to attend the tour on November 5 are expected to be honest about whether they are pregnant or menstruating as a sign of respect to Maori beliefs.
Deborah Russel, prominent feminist blogger on The Hand Mirror blog, does not think the policy should be enforced in modern society.
"I don't understand why a secular institution, funded by public money in a secular state, is imposing religious and cultural values on people.
"It's fair enough for people to engage in their own cultural practices where those practices don't harm others, but the state shouldn't be imposing those practices on other people."
However, Margaret Mutu, head of Maori Studies at Auckland University, said the policy was common in Maori culture.
Women cannot gather food from the garden or the beach when they are menstruating.
"It's a very serious violation of tapu for women to do those things while menstruating."
She said the exhibition rule was quite normal. "It's just the way we are ... It's part of our culture, but it's just one that isn't well known and that Pakeha aren't aware of."
- With NZPA