Pop artists have been involved in clothing lines for a while, but now indie rock bands are getting in on the action - and not always with successful results. Viva charts some of the failures.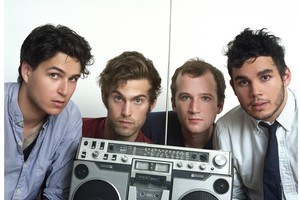 You're not anybody these days unless you have your own clothing line or collaboration. And plenty of celebrities do: actors, models, socialites and sports stars are all at it. But no one loves to get involved with the fashion world more than musicians. Apparently, nothing screams "I've made it" quite like underwear emblazoned with your own name.
But recently there has been a disturbing trend of credible musicians going down this route. Just this week it was announced that one of the most acclaimed and exciting bands of the past few years, Animal Collective, have designed their own trainers.
This is a band who sung in their hit My Girls that "I don't mean/ To seem like I care about material things/ Like our social status/ I just want/ Four walls and adobe slabs/ For my girls". And their own trainer range, evidently.
But they're certainly not the worst offenders. A number of musicians who you'd think would know better have had some questionable fashion flings.
Whatever happened to the music? How can we take your broken-hearted compositions and musings on the futility of life seriously when you're posing for a photoshoot with a model clad in a shirt you "designed"?
Of course, it depends what type of musician you posture yourself to be - and getting away with a clothing line is very genre-specific.
Most pop stars, by their very nature, are sell-outs. They were cooked up in an office somewhere, given songs, a look, even a personality. By being a commercial experiment, they already lack any real heart or integrity.
Therefore no-one cares when the likes of Justin Timberlake (William Rast), Avril Lavigne (Abbey Dawn) and, erm, Hilary Duff (with surely the greatest named collaboration, Stuff by Hilary Duff) achieve success in the fashion world.
Rappers, too, love a clothing line. There's P. Diddy's vomit-inducing Sean John Clothing Inc, the lucrative Rocawear from Damon Dash and Jay-Z, Kanye West has Past Tell while Pharrell Williams purveys his Billionaire Boys Club.
But due to the flashy nature of the hip-hop world, where money and success is everything, rappers positively benefit from such business acumen.
It gives them added clout - alongside their obnoxious car and harem of ladies.
But what about the world of so-called "alternative" music?
Surely rock and indie celebrate truth and credibility over money and appearance, and any ventures into the fashion world are somewhat incongruous?
However, in an interview last year, Vampire Weekend's Ezra Koenig, who has received a number of such offers, had this to say about musician/fashion collaborations: "Some people would probably say that it's a sign of a disgusting consumer society. The truth is, that identifying with a pair of sneakers that you find beautiful is really not that different from identifying with a Rembrandt painting or a Beatles song that you find beautiful.
"The people in the fashion world are as much artists as the people in the music business."
So, who is right? We take a look at some respected musicians' forays into fashion - and separate those who made it out with their artistic integrity intact from those who really sold out.
Animal Collective
Now this is a weird one. You release one of the most lauded albums of 2009 and to follow up, you decide to design some trainers and sell them with a cassette of your new songs. It should be noted that profits from the trainers are going towards the Socorro Island Conservation Fund (apparently the boys like scuba diving there and its ecosystem is under threat). But really, if you're so interested in helping Socorro Island, can't you just, you know, release the songs and give the profits to the fund? Why the inexcusably horrible trainers? No no no.
Verdict? Let's face it, with all proceeds going to charity, they can kind of be forgiven. But we must address how nasty this footwear is. Let's hope poor Socorro Island has other funding to rely on to save its marine life than just this collection. Also, a cassette? Huh?
Pete Doherty
Doherty was a wordsmith for a generation of misunderstood and lonely youths. He expressed their frustrations for them when they themselves couldn't. While the more conservative media attacked him for his drug use and for generally looking like a wreck, his supporters rallied around him, arguing that he was a poet, a singular voice inspired by Baudelaire and Rimbaud.
Then, in 2006, he was recruited by the northern fashion label Gio-Goi to create his own range of T-shirts which were then sold at Selfridges. Even his most avid supporters had to admit they were a little surprised at his shameless commercialism.
Verdict? Pete, the kids supported you through your various tribulations ... but drew the line when you sold out with your own T-shirt line.
Kings of Leon
Surely the most horrifying fashion collaboration of recent memory was when Kings of Leon revealed their own line earlier this year. Joining forces with clothing label Surface to Air, they launched S2A X KOL. It was sold on the King's Rd - which may have once been the home of rock 'n' roll, but is now about as edgy as the Jack Wills stores that inhabit it. The range included a red plaid shirt, trilby and black jeans. So basically the uniform of your typical Camden wannabe.
Verdict? Anyone who suspected the group had sold out with the stadium-rock of Only by the Night were promptly proved right. And a leather jacket for £720 ($1531)? That's almost as overpriced as their concert tickets.
Beth Ditto
Remember when the Gossip, the post-punk band that Beth Ditto fronts, really stood for something? Standing in the Way of Control was not only a banging tune but a response to Bush's Federal Marriage Amendment which would have outlawed same-sex marriage in the US. Then, last year, the wild singer joined forces with plus-size clothing store Evans to design her own range, which promptly sold out. Last week saw the release of her second collection. No sign of a new album, though.
Verdict? Evans, part of Philip Green's Arcadia group, is hardly punk and the tagline "Wearable, Fun and Full of Attitude - Beth is back and better than ever!" makes you want to weep. But Ditto redeems herself by looking out for larger ladies everywhere and giving them something cute to wear.
Weezer
When Weezer announced their last album was to be called Hurley, everyone assumed that it was because they had chosen a funny picture of the character Hurley from Lost for the cover. The truth was far more frightening. The surfwear company Hurley, owned by Nike, had in fact part-funded the record and there was an advertising deal in place. A limited-edition Weezer clothing range, Weezer x Hurley, was released to coincide with the album. Boys could buy Weezer-branded T-shirts, hoodies and plaid shirts. The kind of shirts that Weezer wear but which they probably buy for $5 at a flea market, rather than $55 at a mall.
Verdict? Weezer are, like, so ironic and postmodern, you never know if they're doing something for a joke or not. But it's hard to see what's funny about having a sportswear company sponsor a beloved indie band.
Kim Gordon
Sonic Youth, of which Kim Gordon is the bassist, have been an indie phenomenon for almost 30 years, known for their experimental punk ethos. Gordon launched her first clothing company, X-Girl, in 1994, in an attempt to bring alternative fashion to the mainstream. Last year, she launched another line, Mirror/Dash, at Urban Outfitters, those purveyors of fake vintage rock t-shirts.
Verdict? X-Girl was surely one of the coolest music and fashion collaborations ever. Chloe Sevigny modelled for it and Sofia Coppola and Spike Jonze organised the first X-Girl fashion show. We're not so sure about Mirror/Dash, though.
Liam Gallagher
Oasis, one of the most beloved British rock bands in recent memory, were working-class heroes. Their fights, love lives and music kept a nation entertained and made the band extremely rich. Taking money out of the equation then, one wonders what possessed Liam Gallagher to launch his own clothing line last year? Pretty Green, named after the Jam song, was also modelled by Gallagher and his pensive poses have provided much hilarity online.
Verdict? It's understandable Gallagher has some time to kill before the inevitable Oasis reunion tour, but a clothing line? Really? Gallagher was the swearing hard man of British rock, voted the best frontman of all time by Q magazine, and now he's flogging "classic British tailoring, using fine fabrics with an innovative attention to detail". Have some self-respect, man.
- INDEPENDENT