Herald Rating: 3/5
Address: 1a Beach Front Lane, Browns Bay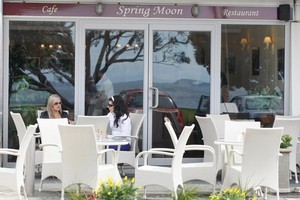 We came here because I'd been here on a less-than-impressive previous visit and was curious to see whether a sunny day would improve things.
Parking was easy on the main drag and there are plenty of parking areas too.
We walked in and immediately thought the place was unassuming inside, but the cane chairs and tables outside in the sun were inviting.
The most unusual thing on the menu was as unassuming as the cafe, but all the basics were covered.
We ordered creamy mushrooms on toast ($8.90) with a side of bacon ($3.50) and the vegetarian breakfast of two eggs, grilled mushrooms, hash browns and corn fritters ($13.90), again with a side of bacon. Unfortunately neither was attractively presented, nor particularly memorable.
The service was friendly and helpful, but very slow.
The coffee was good enough.
We recommend if you come here make sure it's a sunny day when you can sit outside and soak up the sea view.
Overall we thought Spring Moon is in an enviable position and could do well to make more of this by offering more interesting fare.