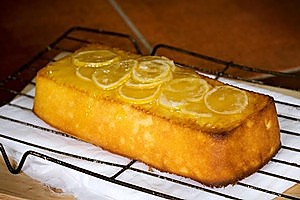 125g butter, softened
3 teaspoons lemon zest
1 cup caster sugar
3 eggs
1 cup self raising flour
1/2 cup Greek style yoghurt, plus extra to serve
2 small lemons, sliced
1/4 cup caster sugar, extra
1/2 cup water
Icing sugar
1. Preheat oven to 160C. Cream the butter, lemon and sugar until pale.
2. Add the eggs one at a time, beating after each addition. Fold in the flour and the yoghurt then spoon into a greased loaf tin and bake for approximately 40 minutes or until the loaf springs back when lightly touched.
3. Put the sliced lemons, sugar and water into a saucepan and simmer for 15 minutes or until syrupy. Spoon over the loaf before dusting with icing sugar and serving with extra yoghurt.