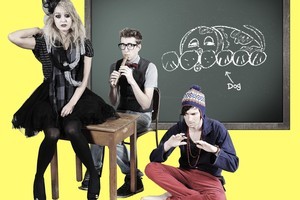 It has been said that your school days are the best part of your life but when you're living - more like, enduring - them, they often don't make you want to sing and dance with glee.
High school especially can be a battle fought with hormone-propelled taunts, put-downs and identity crises which butt up against grown-up issues like figuring out your sexuality, your stance on drugs and drinking, body image concerns and general angst about your future. Not to mention peer pressure - if you feel like you have any friends.
But it wasn't like this for emerging theatre director, writer and actor Sophie Roberts. Roberts, now aged 28, went to Michael Park, a Steiner school in Auckland which adheres to the humanistic philosophies of Rudolf Steiner.
Roberts says difference was actively encouraged and celebrated rather than being a buzz phrase in a school prospectus. "I had a great time; all the bullying stuff which is part of a lot of people's high school years was not part of my school life."
That, coupled with now being in her late 20s, was the reason she originally didn't think she'd be interested in directing the cult American satire Dog Sees God: Confessions of a Teenage Blockhead.
Inspired by Charles M. Schulz's classic comic strip, the production is billed as the unauthorised account of what happened when Charlie Brown and his friends went to high school.
"I wasn't sure how much a play about 16-year-olds at high school related to me and where I'm at in my life but the more I read it, the more I realised the issues of living an authentic life and of being who you are don't go away when you leave high school," says Roberts.
She came to see the play as one with relevance to all and a piece that would challenge her as a director. Roberts says because the comedy comes with bite, she's tried to emphasis the more tender moments.
Since its 2004 debut in New York, Dog Sees God has attracted some of America's most stylish young actors including Mad Men's Michael Gladis, Patrick Fugit, Michelle Trachtenberg, America Ferrera, Ian Somerhalder, Eliza Dushku and our own Anna Paquin.
For the Auckland version, Roberts sought actors who could be bold but perceptive enough to know when to hold back. The characters, she says, are all archetypes but need to gel for the piece to work. The final cast is Byron Coll, Sophie Henderson, Todd Emerson, Barnie Duncan, Chelsie Preston-Crayford, Morgana O'Reilly, Sam Bunkall and Natalie Medlock.
All publicity material related to Dog Sees God, penned by former screenwriter Bert V. Royal, comes with the disclaimer that it has not been authorised or approved in any manner by Schulz's estate or United Features Syndicate.
It means Royal couldn't use the original cartoon characters' names but they are recognisable through nicknames and character traits. CB (Coll) is intensely saddened over the death of his beloved dog and pondering the meaning of life but his friends are too wrapped up with their own dramas to help him out.
His sister has gone Goth; one best friend is an incoherent pothead, while the other has an obsessive compulsive cleaning disorder; his ex-girlfriend has recently been institutionalised and the two other girls he once hung out with are interested only in partying. Then CB meets Beethoven (Todd Emerson), a musical and sensitive boy with the power to change his life.
Roberts saw the potential for adult actors to have genuine fun with their teenaged characters. Coll and Emerson agree but say in reality, teenagers are often as heightened and intense as the play's characters. "If you watch a group of teenagers, you can see they are usually very over the top and theatrical," says Emerson. "It's a time in your life when everything is extremely intense."
Despite its black comedy, he believes Dog Sees God has an important message. Acknowledging he was bullied at school, Emerson says it causes pause for thought.
"I think it's a piece which asks us to think about the way we treat others and try to understand each other a little more."
Performance
What: Dog Sees God: Confessions of a Teenage Blockhead
Where and when: The Basement, September 28-October 9