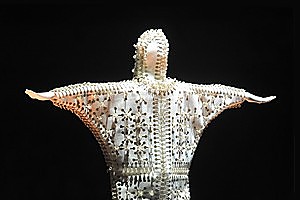 Student designers Yogesh Chaudhary and Manas Barve from India worked hard together to make a garment that "doesn't need to be supported" and were ecstatic when it last night won the open section and supreme award at the 2010 World of Wearable Arts (WOW).
Their work, "Loops", is made of wool felt joined by intricately cut loops rather than stitches. It is seamless in that it is not sown with thread.
"Our concept was something that works on its own and doesn't need to be supported. That was our idea," Mr Chaudhary said.
"With such a fabric it is difficult to make a garment without support but we said 'no, we are going to do it'," he said.
Mr Chaudhary is a fashion design student and Mr Barve is a product design student. They experimented with the techniques used to make the garment by making small products, such as cushions, but admit there were not many prototypes and the pattern for Loops worked from the start.
"I remember making the pattern of the garment in my room and it came out correct the first time," Mr Chaudhary said.
The concept took a long time to create but the garment itself took just a few weeks. The pair used Australian merino wool because a contact was able to source it.
They hoped to win a student award or first-time entrant award, Mr Barve said.
"We can't believe it," he said.
Mr Chaudhary said he had been aware of the awards since 2005.
"We waited a long time before entering and worked really hard," he said.
The pair, who are in their mid 20s, are already talking about coming back.
Judge and New Zealand kinetic sculptor Phil Price said: "It is an extremely complete work that has been taken right through from concept to reality - so singularly strong and such a unique piece of wearable art."
The number of entrants from India has been growing, with 21 this year.
Seven garments were chosen from famed Indian designers Vivan Sundaram and Pratima Pandey, from New Delhi.
WOW has had a relationship with the Fashion Design Council of India, in conjunction with Tourism New Zealand, for six years and WOW founders Suzie Moncrieff and Heather Palmer visited India earlier this year.
A total of 191 garments were selected for this year's show, 130 of which were locally made. The international designers came from Germany, Australia, China, Hong Kong, India, Netherlands, the United Kingdom, Mexico, Sri Lanka and the United States.
- NZPA