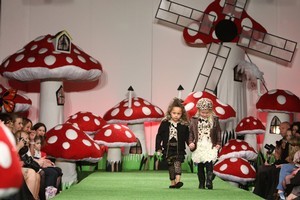 School term finished early for many lucky celebrity and social set children in Auckland with an excitable queue forming well before 2pm for Trelise Cooper Kids.
Some lucky wee dots got to walk the runway, others sat with their parents in the front row admiring the toadstool-studded set, complete with a toadstool-topped windmill.

With a Justin Bieber-heavy soundtrack it was the crowd-pleasing annual show's usual revealing parade of pre-school personality, with some children shy and uncertain and others confidently revelling in the attention.
A few runway traffic jams resulted from those uncertain when their moment in the spotlight was over.

The clothes were as cute as ever, frilled and flounced and decorated with giant polka dots and bows.
A Fair Isle knit, a leather bomber, and a leopard skin hat were among the mini-me references, but most garments were pure party girl fantasy, including tutus and big bows. I loved the little duck print and black corduroy with a floral print.
A shell pink wool coat carried an image of the Eiffel Tower on its back.
The show, entitled Barbie: A Fashion Fairytale, had a final chapter that brought us down to commercial reality when Barbie-like models led out pink princesses clutching Barbie dolls.
Cooper claims that childhood play dressing her Barbies with scraps of fabric was an early inspiration and helped her dream of a bigger world.
She now plays fairy godmother to a host of other little ladies who were showered in tinsel confetti at the show's end.

But a note to the sponsors, subtle product placement would be more successful, especially when the stars are there in the flesh, not plastic.