From runway to reality, top hairstylists and makeup artists reveal the tricks of the trade.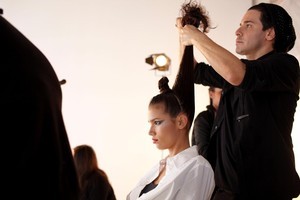 It's not just all about the clothes, Fashion Week is also a creative outing for the beauty industry's best talent and a great place to track trends and spot new looks.
For more Fashion Show news, including the shows posted live daily, check out the Viva team's online Fashion Week coverage here.
KATHRYN WILSON
Hair: Danny Pato of D&M and Michael Sisaengrath
Makeup: Amber D for M.A.C
The inspiration for the show look was Robert Palmer girls - strong, sexy, almost mannequin-like glamazons as seen in trials referencing 90s video clips including Simply Irresistible.
Hair director Pato, whose five member team worked on 14 models yesterday, said: "The ponytail was big in the 90s, not just with the Robert Palmer girls, but also with Madonna's famous ponytail in the Blonde Ambition tour. We decided to go with this, to pull the hair back from the face, show a lot of skin, and really keep the focus on Kathryn's shoes.
We gave it a theatrical twist by making the ponytail really high and long."
Amber D who led the makeup team for M.A.C says she "took Kath's vision and wanted to push it into Robert Palmer girls in 2010".
How does this look translate off the runway?
Pato: "Runway hair and makeup can be over-the-top, but it's easy to see where we're going with this. Any hair type can go with a ponytail, whether it's straight or wavy, and it can be high or low, loose or tight. It's an easy look to achieve that's fresh and fun. A small change that creates a big impact.
If you want to achieve a high ponytail like we did with Kathryn Wilson's show, when the hair is damp you put in a leave-in conditioner and comb it up to the centre of the crown, fastening it with a hair tie. Take some of the hair to wrap around the base of the ponytail and secure it in place with a bobby pin."
Amber D: "The look is both a bold eye and a whip-crack perfect lip that is held together by flawless skin that has an edge to it by using a strong contour as well as a refined electric highlight.
The eyes are winged out and have a cat's eye shape but the edges are flawlessly blended using M.A.C Blacktrack Fluidline as the base for the shape and layering M.A.C Bloodline Pigment over the top to make the eye a blackened brown shade. By using M.A.C Acrylic in black a curved line was added just above the crease of the eye so it's visible when the eye is open. By doing this the eye is brought into focus and the shape emphasised.
"The makeup had to have a clear red lip so the shape is sharp with an intense bow - this gives it toughness."
TRELISE COOPER
Hair: Grant Bettjeman
Cooper's is the biggest individual collection of the week and after showing to media and buyers this evening, the show is repeated for invited clients and sponsors. "So it's all hands on deck, says long-time collaborator Grant Bettjeman, who calls in a full team of about 25 staff from Bettjemans to spend about three hours prepping models, with hair pieces and extensions done in advance.
The inspiration this year is Botticelli Primavera. Bettjeman says this translates to a beautiful feminine image which is romantic and historical, consisting of lots of flowing texture and length with a fresh modern look and shape. To realise the vision he says there's plenty of discussion with Cooper and his creative team. "We are using this time in history as inspiration, so words, images and feelings around this. Trelise uses beautiful rich fabrics and texture and it's about having a connection to the collection that's being presented."
Bettjeman says high-fashion runway hair is sexy and feminine and needs to be larger than life to create theatre, but all the texture and shape can be translated for everyday by toning down the size and making the look softer.
The Trelise Cooper-look is achieved by creating a mixture of textures with conical tongs, hot irons curls, crimping in the root area for volume, and rik rak. Bettjeman says hold is the most important factor with shows and he'll be using liberal amounts of L'Oreal Professionel sprays for hold and shine and Techni.art Hot Style Constructor before hot tools are applied.
ZAMBESI
Makeup: Amber D
"This season at Zambesi, Liz and Dayne [designers Elisabeth Findlay and Dayne Johnston] have created a collection that plays with shape and texture and also has a sports influence," says Amber D. "The inspiration for the makeup was the feeling of preparing for battle - whether that means literally or in a sporting situation."
The makeup needed toughness, so she opted for look that was "both painterly as well as beautiful". Uniformity was given by the use of different makeup designs that tied together, but also varied to suit the model's skin tone and hair colour. These markings also echo tribal looks seen internationally and unless you want to go crazy with coloured zinc this summer, they're more for show than street.
Several techniques can be tried out at home though. Amber D says skin needs to be flawless and porcelain to carry the designs done in M.A.C Pro Chromacake, a professional quality body paint. On the skin, she used M.A.C Studio Sculpt foundation with Prep & Prime powder to achieve this without loading too much product on the model's skin.
Lips were blocked out using Lip Erase so that the focus remains elsewhere, with the only highlight of the makeup being a small brush of vanilla pigment on the bow of the lip to create dimension.
SERA LILLY
Makeup: Neisha Henry for Smashbox
With 45 models, a team of 15 makeup artists will be used to create the Sisters of Salvador, a pretty look for models who have been cast fresh from the street. A night-time feel was needed for Lilly's cocktail gowns and hair by Mana Dave of Blaze.
Henry and Lilly showed each other visual references. "Sera loves fully groomed brows so that's a must in whatever we do."
One of the chosen looks is a bronzed eye, with a deep chocolate contour, pale lips and that full brow. To carry the look, Henry says you need flawless skin and that Smashbox Photo Finish primer is a must. The brow was brushed and filled in, nude and shell eye shadow applied, then a deep chocolate matte brown used for contour. Dark brown liner was swept to the outer corners and accentuated with false eyelashes. A peach nude lip finished the look.
JIMMY D
Hair: Luana Coscia for Fudge
To give life to Jimmy D's collection inspired by cult 80s vigilante movie Ms 45, angst-ridden teens of the 90s and the dark, symbolic world of Norwegian Black Metal album artwork, Australian session stylist Coscia has created a band of dark, scary, metal-listening girls, using a team of 12 working on 13 models.
The hair look can easily be re-created. She recommends straightening the hair with Fudge Liquid Erekt to keep it in place while protecting from heat. From there, apply a lot of Fudge Hair Gum at the crown of the head to give the top section that dripping wet look, and manipulate it with a wide-toothed comb to get rid of any partings, and help achieve thick grooves/comb lines in the hair.
TWENTY-SEVEN NAMES
Hair: Servilles (key stylist Emma Ecott)
Look book images for Twenty-seven Names' winter 2011 collection foreshadow the softly styled hair and gentle makeup we are expecting to see at the label's The Fearsome Five show tomorrow. Designer Anjali Stewart says: "We're looking back at our misspent youth."
That youth was in the 90s, so hair has a flicked, dressed-out look, partly inspired by 90210's Donna Martin. It comes worn long and loose (achieved with mousse, backcombing and irons, before being softly brushed out) and in a dishevelled updo.
Ecott, creative director at Servilles, said the updo was given an off-beat element of mussed up braids. "Both looks are youthful 90s styles revisited and updated to complement the collection."
UPDO HOW TO:
1 Prep the hair by blow-waving in a hair mousse (Ecott used L'Oreal Professionel Techni.art Full Volume Extra Mousse). Separate the hair into two parts: zigzag a full circle on the head starting approximately two inches back from the front hairline and zigging around to the nape. The result is a smaller inner circle; a bigger outer circle.
2 Take the inner piece and tightly backcomb the roots for volume, apply hairspray (Techni.art air fix spray), then lightly backcomb the lengths for texture. Gather the inner circle of hair together and tie at the nape.
3 Now take the outer circle of hair and make a side parting. On the larger side of the parting, backcomb the fringe area to create lift at the front.
4 Loosely braid each side, gathering the hair as you travel along the side of the head towards the nape. Tie the braids in a ponytail and then plait the remaining hair into the pony.
5 To achieve the updo: Take the inner circle pony and push it up to give lift at the crown and twist the two ponies together into a bun, fixing with bobby pins.
6 Finally use your fingers to rub the hair with a matte hair clay (such as Techni.art A-Head Clay) and loosen it out for a soft finish, lightly tugging at the braids, before applying hairspray (Playball Anti Frizz Fizz).
JULIETTE HOGAN
Makeup: Jo Roughan for M.A.C
Melodrama House Wife was the inspiration for Hogan's collection, reflected in fabrics that started soft and pale and became richer and more textural. The makeup followed a similar track of 60s awakening from innocence to a sense of power.
First up was soft skin and subtle lips in M.A.C Blankety, with Blacktrack fluidline adding a winged eye, with #34 lashes added. A more confident look came with Teddy eye kohl in the inner rim. Further drama was added with Smolder eye kohl and a smudging of Zoom Lash Mascara. Brownish Twig lipstick finished the look.