Paintball is a fun way to get some exercise and bond with team-mates, writes Kirsten Warner.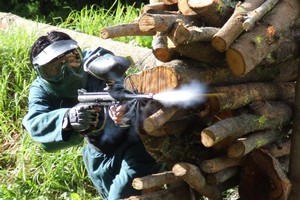 Being shot at and splattered with paint while running for cover and firing a kind of air gun might not be everyone's idea of fun. But take away the Doomsday overtones, and paintball has elements of a wild neighbourhood kids' game.
It gives grown-ups (and kids) the chance to let go of inhibitions, to run, hide, slide, shout and bond without anyone getting hurt. Okay, there might be a couple of welts or bruises at the end, but you could get the same (or worse) abseiling or playing netball.
Paintball is a game where you tag your opponent with splats by hitting them with gelatine capsules containing non-toxic, water-based paint from a paintball gun or "marker".
For Doreen Gibbs, of Greenlane, it's something she can share with her 14-year-old son Jared while still having fun and getting exercise.
Jared is an Auckland and New Zealand representative soccer player, so these days they only get out to Actions Paintball in Swanson every couple of months, sometimes with other families they know.
Doreen and her business partner Annie Tuck also take staff from their two automotive workshops out to play the game as part of a corporate challenge.
A $100 package gives about four hours play, and you can buy a further pack of paintballs for $18. On corporate challenge days, Gibbs hires the paintball marker as well (which is differently powered from her own, on bottle air rather than CO2 canisters). She has invested about $1000 each in gear, but says that it's still cheap compared to other adrenalin sports like motocross, or even skiing, and that she would spend as much on Jared's soccer boots in a season.
Paintball strongly appeals to young men, but families and groups of women also enjoy the wildness and exuberance.
Paintball is not just about going out and shooting: a game without objectives quickly becomes stalled, like soccer without goalposts.
At one extreme, scenario role-playing tends to make news. Participants in camo gear with military-style replica guns act out long war games which involve defending and attacking, often in rugged territory with trenches, barricades and gun pits.
The other extreme is a serious tournament sport with international events, played hard and fast like a conventional ball sport, on a small field. It retains the firefight rather than the stalking element of the scenario game.
"In tournament play, as soon as the whistle blows every player is moving and or shooting," says international referee Kyn Jackson. "It's pretty common to have half your team shot out in the first 30 seconds. Because the game's so intense it's lost some of its enjoyment."
So for the 99 per cent of paintballers playing for fun, there's a version in between. Players try to capture their opponents' flag or a central flag. The long field is set up with barricades and hiding places which retain all the fun of hide and seek and stalking. Natural leaders emerge, the better team moves quickly up the field: who dares, wins.
Getting started
* Paintball is an extreme activity. Be prepared to get muddy through winter and spring.
* Wear robust old clothes covering arms and legs. Sports shoes with traction are better than hiking or gumboots.
* Packages start around $45 including marker, goggles, glove and 100 paintballs, giving around 45 minutes playing time. Extra paintballs: around $20 per 100. Overalls hire: around $4.
* Children under 12 may not be allowed to play for safety reasons.
* On the web: guidetoauckland.co.nz