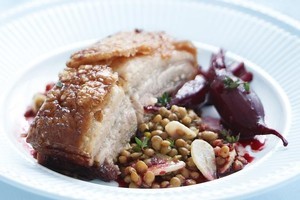 A crisp and crackling pork belly served on a bed of earthy lentils is the perfect meal to start the evening.
Serves 4
1.2kg pork belly
1/4 cup olive oil
1/4 cup sea salt flakes
2 cups water
1/2 cup malt vinegar
1/2 cup brown sugar
400g baby beetroots, peeled and trimmed
1 Tbsp olive oil, extra
1 clove garlic, sliced
2 x 400g cans lentils, drained and rinsed
1 Tbsp red wine vinegar
1/2 cup chicken stock
1 tsp chopped thyme leaves
Sea salt and cracked black pepper
1 Preheat oven to 180C. Rub the pork skin with the oil and salt, place skin side down in a baking dish and roast for 1 hour. Turn and roast for a further 1 hour or until skin is golden and crunchy. Set aside and keep warm.
2 Meanwhile, place the water, vinegar, sugar and beetroots in a saucepan over high heat, cover with a tight-fitting lid and bring to the boil.
Cook for 30-35 minutes or until beets are tender and the liquid is thick and syrupy. Heat a pan over high heat. Add the extra oil and garlic and cook for 1-2 minutes. Add the lentils, vinegar, stock, thyme, salt and pepper and cook for 3-4 minutes or until thickened.
3 Serve pork with lentils and beets.
For more Donna Hay recipes visit her website at donnahay.com