Raised beds will lift your garden to new levels. Janice Marriott offers some pointers.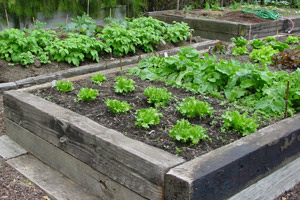 Soil will warm faster and drain more effectively in a raised bed.
This will mean your vegetables will get a better start in early spring.
The shelter of just a few centimetres of plank or brick will stop seedlings from being spun round like whirling dervishes in the spring winds.
The bed's walls can be waist high - useful for gardeners who can't bend down, and useful if you have a dog that likes to dig its own potatoes, or plant bones.
Or it can be ankle high. This will still stop blackbirds scattering mulch and your newly sown peas all over your paths.
Raised beds can look good by making a sharp distinction between your plants and your path.
Some plants, such as cucumbers and zucchini, like to tumble over walls, whereas creeping thyme and oregano love to drape over shorter edges.
Raised beds make it easy to start a vegetable garden. Just build the box, dig over the soil in it, scatter blood and bone, then dump on top barrow loads of compost to fill the box.
Make a raised bed out of bricks or pavers standing on their edges.
Wood will do the trick, too, but don't use tanalised timber which will leach poisons into the soil. Macrocarpa will last longer than pine.
Screw the boards together at the corners to make the structure rigid and when done, turn round and glare at the blackbirds.
With your raised bed in place you can sleep well knowing that you will have tidy paths, sheltered plants and warm soil.