Herald rating: 4/5
Address: 33-45 Hurstmere Rd, Takapuna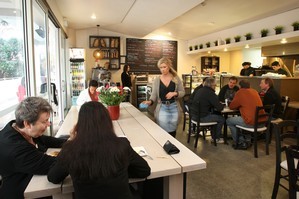 We came here because we'd haunted the place all summer before hitting the beach, so wanted to see if it was as lovely in the depths of rainy winter.
Parking was easy on the Strand around the beachfront.
We walked in and immediately thought there was a buzzy vibe, especially around the big, shared table. A howling gale meant we couldn't sit on the terraces under the pohutukawas, but on a sunnier day it would be perfect.
The most unusual thing on the menu was crepes with lemon ricotta filling ($13). My savoury tooth won out, but I did have dish-envy when I saw it at the next table. And you don't see crumpets and golden syrup ($7.50) on menus every day.
We ordered the warm breakfast salad ($15) and Jam-style hash ($15.50). Both came on hot dishes, with generous servings and were perfectly cooked. The poached eggs were just right, the mushrooms and tomatoes with the salad tasted like ones from the garden (everything is organic, free range and hormone-free).
The hash cake was potatoey, oniony and the bacon the right amount of crispy. Sadly, the servings were so generous there was no room for home-baked goodies from the counter.
The coffee was Velvet, a newish fair-trade organic brand roasted right on the Shore. Hot, and well finished.
The service was happiness itself. Clearly they've kept up the "no grumpy, ugly staff" policy from the summer.
We recommend if you come here you eat up large and then pound off the kilos with an invigorating walk along Takapuna Beach.
Overall we thought the Shore needs more places like this. Hurstmere Rd is well overdue a revival to embrace its seaside location.